In their first semester studying for a commerce degree at University of Wollongong, Tom Moore and Luke Rix failed accountancy 101.
---
"Don't know how that happened, I guess we just didn't apply ourselves,'' says Rix with laugh.
Not a great start but it didn't stop the dynamic duo from charging ahead to eventually shake up an entire section of the labour market in a way nobody could have foreseen.
In 2016 just five years after graduating, they co-founded WithYouWithMe, a training and recruitment company which has revolutionised the existing flawed model of finding work for defence force veterans.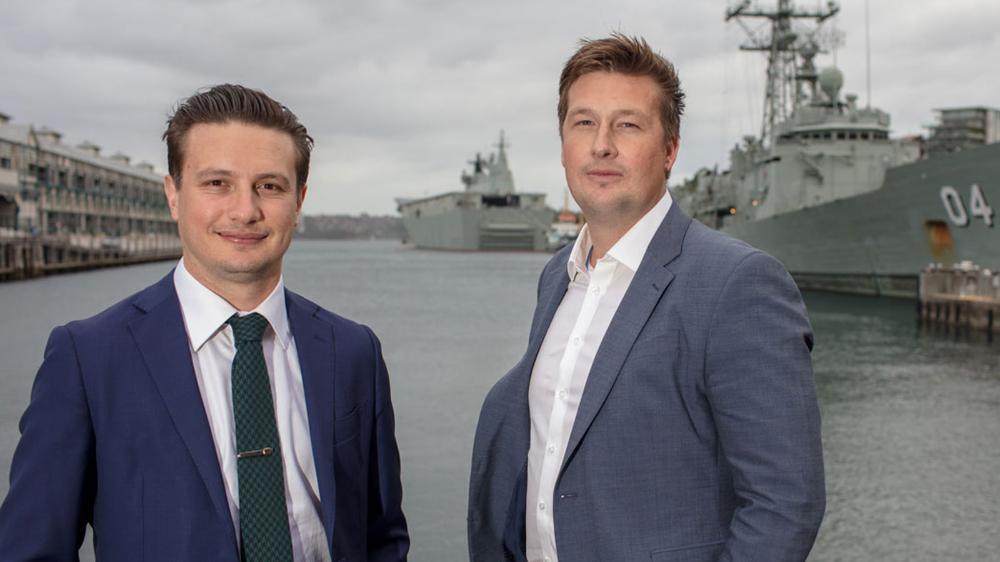 L-R: Luke Rix and Tom Moore
Rix and Moore grew up in Camden but only met in their first year at university where they clicked almost instantly.
"We ended up lining up our classes on the same days so we could carpool to uni,'' says Rix.
He describes Moore as the charismatic ideas guy of the team but they have both always loved pushing the boundaries.
After university the pair branched off with Rix in corporate public relations while Moore took a completely different but not surprising path.
Moore turned down an offer from Google to train at Duntroon Royal Military College to honour a strong line of family commitment to national service that began with World War One.
By 25, Moore was a lieutenant leading a 60-man infantry unit in Afghanistan, thriving on the challenge of leadership in a confronting environment.
"A good day was when nobody tried to blow you up but it taught me how to solve problems most people would think impossible and how to build solid teams at a very young age."
Then disaster struck.
Moore began to experience excruciating pain in both legs and was diagnosed with severe osteo-arthritis which had left him with almost no cartilage in his knees.
"I couldn't take three steps without falling over,'' he recalls, "When you are training four hours daily for combat it became impossible to hide."
Facing medical discharge, he asked for 12 months to try stem cell therapy and during that time he was posted to Wagga to transition men and women out of the defence force for a variety of reasons.
00:02
my name is Tom Moore I graduated from
00:05
UAW with a Bachelor of Commerce majoring
00:07
in marketing and public relations and
00:09
I'm the CEO with you with me yeah so we
00:11
do with me aims to solve the problem of
00:15
veteran unemployment how we do that is
00:18
essentially by doing recruitment and
00:20
professional education better in terms
00:22
of training it's simply we predict the
00:25
market we match people to the right job
00:26
if we train them to their job as they
00:28
leave the Defence Force and we deploy
00:29
them industry I think to understand why
00:31
it's important is to look at why the
00:33
problem is so big so Australia has a 30%
00:36
unemployment rate for veterans as they
00:38
come out as a Defence Force that's
00:40
costing us about 6.4 billion a year in
00:42
income support now when you think about
00:44
why would you need a specific program
00:46
each soldier gets about 2.4 million
00:49
dollars worth of training it has about
00:50
125 hard skills at the basic level to be
00:53
deployed of industry so essentially
00:55
they're getting rejected from the market
00:57
so what we've built very effectively is
00:59
a bridge that connects them as they
01:01
leave to high-performing roles industry
01:04
and we've had substantial success so far
01:07
the success out of it was within you
01:09
know 12 months with place over 300
01:11
people directly in the roles we work
01:13
with over 80 businesses who have seen
01:14
the power of talent and a lot of them
01:16
are in the ASX which is fantastic and
01:19
we're now moved into athletes and people
01:21
leaving school so we're really looking
01:24
at that future work problem quite
01:26
seriously and we really want to help
01:28
people that are leaving university
01:29
through - leaving school and leaving
01:31
military or changing careers that
01:33
actually you need to work out what you
01:34
put out double down on it and see where
01:36
that fits in the labour market and now
01:38
at Luke Rick's graduated from a bachelor
01:42
in commerce may dream public relations
01:44
and marketing and I'm currently the
01:47
chief operating officer we both grow
01:53
from Camden which and you commute down
01:55
and he was in the first second week Tom
01:58
came up to me one day we were just
01:59
sitting around before a lecture and said
02:01
I've seen you around town and we came
02:04
good mates and decided to commute down
02:05
together carpool organized all their
02:07
classes around each other yeah so like
02:10
we both miss the orientation meeting
02:12
like we were both outside the actual
02:15
meeting and that's where we met how do
02:21
you work the more you put in the more
02:22
you get out of it and that's something
02:23
that we carry over everyday now one
02:26
thing that I found that was very
02:28
important in UAW learning in our second
02:31
year was that you can have a whole bunch
02:33
of crazy ideas right but we weren't
02:35
doing it in the right way so we're not
02:36
second year we worked out that we needed
02:38
to engage our professors a lot more that
02:41
allowed our performance to scar up a bit
02:43
what it taught me was the benefit of
02:45
asking people advice and not only asking
02:49
people advice but when you ask people
02:50
advice take it that next step and go
02:52
well what if we do it this way that
02:54
really is being is beneficial in the
02:57
military as well as in babies and I
02:59
found out we had some very good sounding
03:01
boards in strategic marketing and PR you
"At that time Tom was coming back to Sydney every weekend and it really worried me to see him so down and vulnerable,'' says Rix.
The stem cell treatment helped but not enough to save Moore from discharge in 2015.
"I applied for over 100 jobs and didn't get one despite my degree and experience so I was pretty depressed and broken because for the first time in my life my ambition was trumped by my ability,'' says Moore.
He ended up finding a job in digital marketing but with a fraction of the challenge he had received in the army.
That transitioning process left Moore with a bad taste but it gave him an invaluable insight into a broader problem that shaped the idea for WithYouWithMe.
There were a variety of services available at the time to help veterans transition to civilian life but Moore describes them as fragmented and pushing a broken message.
"I knew something had to be done because there was overwhelming evidence veterans were often either unemployed or under-employed. For instance, I knew guys who had highly skilled jobs like engineering in the army yet were now working in bars."
Rix, meanwhile, was working with Commonwealth Bank of Australia but decided in 2016 to join Moore part-time to help build a start-up that offered a comprehensive service involving career assessment, mentoring and training so cutting edge and relevant it would eventually have companies as big as Amazon at their door.
"Initially, I just wanted to see Tom get that sense of purpose back again but I was sold when I saw the difference we could make to people's lives," he says.
"The name which is a military catch cry for "I've got your back" set the tone and it's gone from strength to strength."
Moore says Rix's support has been invaluable:
"The way our business works is I run a thousand miles ahead into the unknown and I drag Luke along but he is the only person I know who can apply the brakes at the right time.
"If not for Luke, I'd question if the organisation would be here and if it wasn't here I would have struggled to be here too. I've responded to seven suicide attempts among my men last year alone."
After just one year the company is now valued at $10m with 30 full-time employees and over 2500 male and female veterans on the books. It has an informal internship program with University of Wollongong and currently receives revenue from more than 100 clients.
---
Tom Moore
Bachelor of Commerce, 2010
Chief Executive Officer, WithYouWithMe
Luke Rix
Bachelor of Commerce, 2010
Chief Operating Officer, WithYouWithMe
Michele Tydd
Bachelor of Arts, 1986