Lu has worked for major news outlets in Paris, Belfast, London and Sydney.
---
Angelique Lu has had a flying start to her early journalism career. While journalism graduates are desperately looking for any work in a landscape littered with declining profits, job losses and budget cutbacks, Lu has worked for major news outlets in Paris, Belfast, London and Sydney.
"It's been a really hard slog," she says. "There was a lot of homesickness, and quite a bit of self-doubt, especially when I wasn't sure how things might pan out when I moved abroad. But I think a big part of any career is learning to ride out the rocky parts and celebrating the little victories when they come. I've been seriously lucky in my career so far."
Her advice to others is to embrace rejection and failure.
"Don't take rejection personally," she says. "I think rejection and failure are such healthy aspects of a career. I think if you're not getting rejected, you're not putting yourself out there. If you're not failing it means you're not trying new things."
00:13
just after I finish University at the
00:16
University of Wollongong I was one of
00:17
ten UOW students to go to Paris to work
00:20
at the World Association of newspapers
00:22
with a brilliant Julie pizzetta he was a
00:24
lecturer at the time for maybe see Jono
00:25
it was originally meant to be a
00:27
three-month stint writing for their blog
00:29
so the world of association newspapers
00:31
is like trade union with an NGO mandate
00:34
so what they would do is write about
00:37
editorial issues affecting newspapers
00:39
around the world human rights issues
00:41
things that affect the media trends
00:44
innovation in the industry and so I went
00:48
there originally for three months and
00:49
wrote about a whole host of things it
00:52
could have been a children's newspaper
00:54
in Norway it could have been an Iranian
00:57
journalist he was jailed for freedom of
00:59
expression issues it could have been the
01:02
gamification news or the automation of
01:04
journalism so it was a really great
01:06
stint because it was a solid foundation
01:08
it was a small office it gave me the
01:11
opportunity to think critically about
01:13
journalism as a whole and actually I was
01:15
there during the Charlie Hebdo shootings
01:16
so to be in Paris when there was
01:20
terrorism against journalists was really
01:22
quiet for a formative experience for me
01:24
after I finished up my time in Paris I
01:26
then joined the BBC as a news trainee
01:29
and the journalism training scheme at
01:33
the BBC gets anywhere between 4000 to
01:36
6000 applications a year so had I known
01:39
that I might not have applied but I
01:40
applied and they got 1 out of 14 jobs
01:44
from a pool of about 4,000 candidates to
01:46
join the BBC they gave me a call and
01:48
they said you're going to Belfast and
01:50
the the training scheme was incredible
01:52
it was being trained at world-renowned
01:57
news organization in radio TV and online
02:00
but the stories that are really
02:01
interested in other stories that
02:04
and I don't really see people like
02:05
myself in the media someone who's a
02:07
woman of color low socioeconomic
02:09
background so the stories that I love
02:11
reporting on or love engaging in their
02:13
stories that maybe aren't covered by
02:15
other journalists because they have
02:16
different backgrounds to myself you
02:18
don't know what you're capable of until
02:19
you push yourself and so for me living
02:22
abroad has helped me to just have new
02:25
experiences so my parents are refugees
02:28
from the Vietnam War and they came to
02:30
Australia in 1983 as refugees they left
02:33
Vietnam on a boat with two of my
02:35
brothers who two boys under - I'm almost
02:37
heavily pregnant my third brother they
02:39
got on a boat from Vietnam to Malaysia
02:41
to refugee camp there my mum actually
02:42
gave birth to my brother in transit and
02:44
then came to Australia side of the life
02:45
there started in Australia with no
02:47
English I grew up in quite humble
02:49
circumstances in Western Sydney and so
02:51
for me I find that is such a formative
02:54
part of my identity and my drive just to
02:57
see people like my parents how much I've
03:00
had to fight for things the basic things
03:02
and so for me with someone who has much
03:05
as they had I feel like I'm capable
03:08
doing a lot more because I know what the
03:09
alternative is so while I was a trainee
03:11
at the BBC in Belfast I also studied my
03:15
Graduate Diploma of legal practice it
03:17
was actually mostly out of pragmatism
03:19
more than anything there was a time
03:20
limit on your legal qualifications and
03:22
to me I think the labour market is so
03:26
competitive why wouldn't you give
03:27
yourself another string to your bow so
03:29
in terms of where my legal career or my
03:31
legal qualification might take me in
03:33
conjunction with my gels in green I have
03:35
no idea but I'm ready for whatever
And Lu has certainly put herself out there to try new things. While studying a Bachelor of Journalism - Bachelor of Laws in 2015 she was one of ten UOW students to fly to Paris to undertake an internship at the World Association of Newspapers and News Publishers with award-winning journalist and UOW academic Julie Posetti.
Lu was there to work on the organisation's blog for a three-month stint writing about issues which affected journalists worldwide. While she was there, the Charlie Hebdo terrorist attack occurred, leaving 12 people dead and another 11 injured.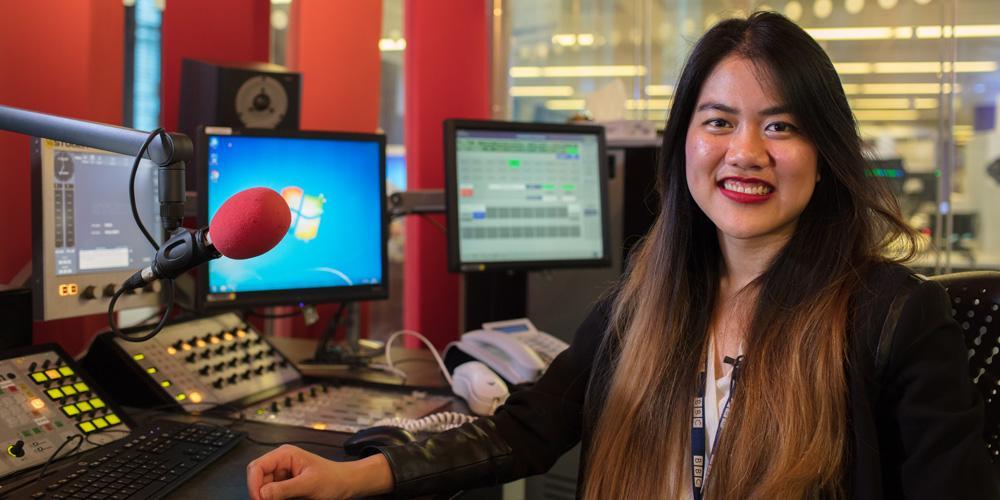 "You're just sitting behind a microphone but I [had] to keep reminding myself that I could be talking on the radio and someone is doing the dishes or driving their car."
"To be in Paris, when there [was a terrorist attack] against journalists, was really quite a formative experience for me," Lu says.
In the end, Lu spent nine months working in Paris when she was offered a chance to work on a UNESCO study into legislation in 120 countries which protects journalists' sources.
"It was just me being open to opportunities, being really eager," she says. "It combined my two loves, which are law and journalism."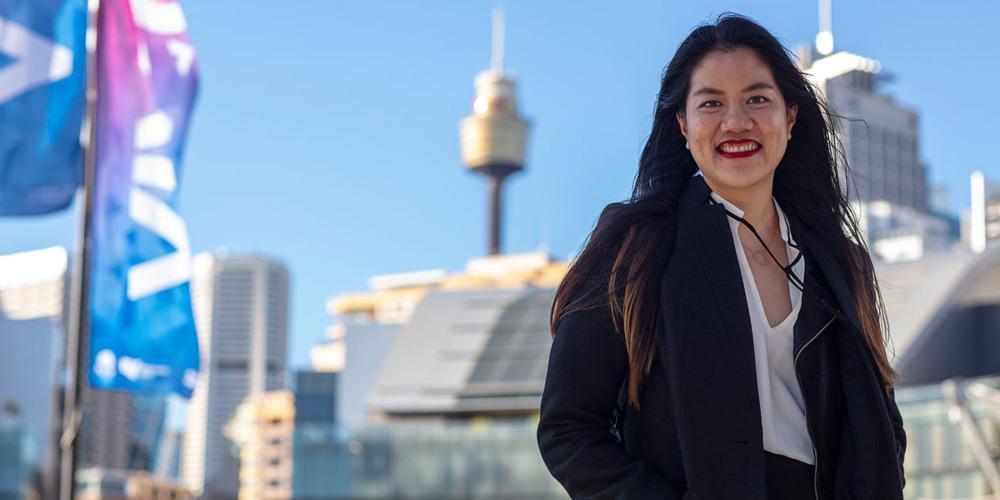 Angelique Lu is back home in Sydney, working for ABC News.
The report, Protecting Journalism Sources in the Digital Age, was published in 2017 and received international attention, including being shared by Edward Snowden who rose to infamy in 2013 when he released thousands of classified US National Security Association documents to journalists.
The report found laws designed to protect journalists and their sources globally were not keeping pace with new methods of data collection and the "spill-over" effects of anti-terrorism laws. This in turn threatened journalists' ability to report without fear.
After her internship ended, Lu looked to the UK for her next role. She was one of about 4000 applicants for just 14 traineeships at the BBC, one of the world's largest news organisations. Lu was successful and posted to Belfast to begin the traineeship program.
"It was really great because Belfast has this complex history," Lu says. "It is the ultimate test of journalism skills in terms of audience awareness, the history and the post-conflict [stage] it is in."
After finishing her traineeship, Lu moved to London to work on BBC's World Service, the world's largest international radio broadcaster with millions of listeners worldwide.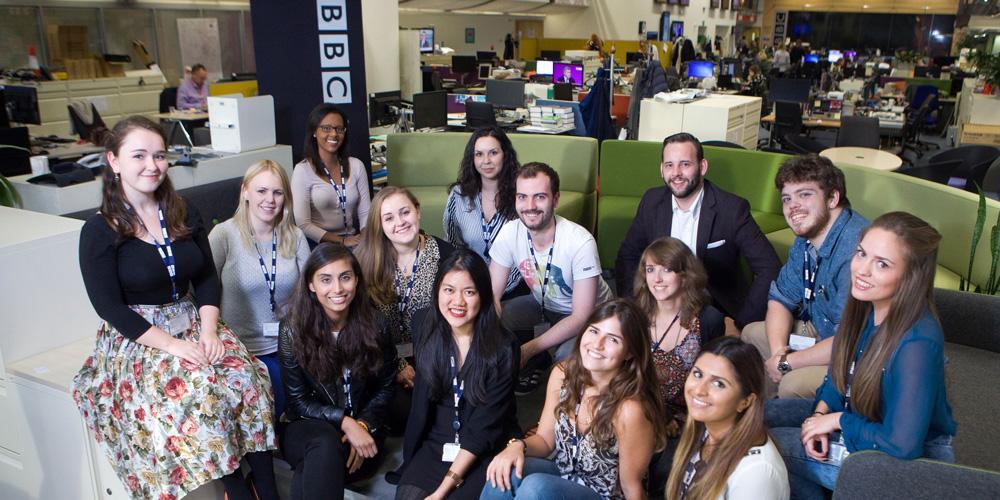 Lu with the other BBC trainees. Image courtesy of BBC Academy.
"Sometimes it [dawned] on me, just the scale and the magnitude of working at the BBC in London. It's the largest newsroom in Europe," Lu says. "You're just sitting behind a microphone but I [had] to keep reminding myself that I could be talking on the radio and someone is doing the dishes or they're driving their car and you're just a familiar voice."
After two years in the UK, Lu returned home to Sydney in late 2017 and started working in radio again, this time at the ABC. Her first role was as a producer for Nightlife, a national program. Now she's out of the studio and working the general news rounds as a reporter in the NSW newsroom and loving the constant deadlines and adrenaline rush.
"I love the fact-finding, being allocated something that doesn't look like much, and it turns into something real and tangible," she says.

Lu reporting on location.
Lu has also been admitted as a solicitor with the Law Society of NSW after completing the bar requirements while she was working in the UK.
"It's no question that I'm a better journalist because of the critical thinking my legal qualifications have given me," she says. "I'm not sure where my career will take me: whether I'll continue to work in journalism​, or whether I'll go down a legal path, something in between or something totally different altogether. I think there's only so much of life you can plan. I think it's a matter of being adaptable and being ready for whatever comes next."
Lu says it was her mother who taught her that there was no such thing as a wasted experience. Her parents and brothers came to Australia in 1983 as refugees of the Vietnam War.
"That's such a formative part of my identity and my drive," she says. "To see people like my parents, how much they had to fight for things, even basic things. So for me, who has [fewer] obstacles in my way, I feel like I'm capable of doing a lot more because I know what the alternative is.
"Sometime I get really well-meaning people say: `You've done really well despite being the daughter of refugees.' I understand what people mean by that, because there are real barriers to overcome and I've needed a lot of support along the way.
"But I also think it's because I'm the daughter of refugees that I've done well, because I had their experiences to draw from and ... the opportunities available to me are so much greater than they had."
---
Angelique Lu
Bachelor of Journalism/Bachelor of Laws, 2015