It is almost impossible to think of Sydney without conjuring to mind one or both of the city's major landmarks: the Sydney Harbour Bridge and the Sydney Opera House.
---
Working behind the scenes at one of them, is UOW alumnus Ian Cashen, who manages the maintenance of the building and the safety and security of staff and visitors at the Sydney Opera House – the country's number one tourist destination and Australia's busiest performing arts centre.
As Executive Director of Building, Safety & Security, Cashen is also responsible for the delivery of the Sydney Opera House's Stage 1 Renewal project - the largest program of upgrades to the building since it opened in 1973.
00:03
Ian Cashen executive director of building
00:06
safety and security and i studied civil
00:09
engineering at university a while ago I
00:11
was doing some work for the Sydney Opera
00:12
House and my predecessor in this role
00:14
when he retired the Opera House sort of
00:17
encouraged me to apply for them for the
00:20
at first it was quite daunting and and
00:22
most people's reaction when you tell
00:24
them what your job is is it's really
00:26
it's really iconic that's and they say
00:28
wow that's a that's a big job
00:30
I guess you learn to you know you have a
00:32
great team and we have a great team here
00:33
at the Opera House and you learn to
00:35
trust your team and you have to lean on
00:37
your team to to make sure they're sort
00:39
of looking after it sounds not just on
00:41
your shoulders but the way of explain to
00:43
me recently was you're the chief
00:44
engineer of the of the Opera House so
00:46
everything to do with the building some
00:48
is sort of sits with me and I guess also
00:51
safety and security so the operational
00:53
side of things as well making sure
00:55
people stay safe and you know looking
00:57
after the security team they look after
00:59
that look after the building look I
01:01
think it's it is such a unique building
01:03
it is such a challenging building from
01:06
you know it's geometrically very very
01:09
complex it's really impressive and from
01:12
an engineering point of view what they
01:13
managed to do in this building
01:14
particularly back in the 60s and 70s was
01:18
absolutely amazing and I hadn't been
01:19
done in the world a lot of what they
01:21
achieved here so that you know that that
01:24
makes it a really interesting place to
01:25
work it's also a really busy place you
01:28
know it's a it's a 24/7 operation we're
01:32
putting on shows every day every day of
01:34
every year except for two days Good
01:36
Friday and Christmas Day there are only
01:38
days that the Opera House is closed so
01:40
again it makes it a really interesting
01:42
building to work in I think when I first
01:45
started I uh and not many people get to
01:48
do this but I asked for a to be able to
01:50
climb up on top of the sails so I did
01:52
that I think in my second week here that
01:54
was I thought that was pretty cool and
01:56
again not many people get to do that the
01:58
Opera House inspires people and people
02:00
want to come and do research and
02:02
investigation here because
02:03
in such a let's us how to draw card
02:06
because it is the Opera House and
02:07
because people do care about it so
02:09
deeply it's some people are very
02:11
passionate so you can't you have to
02:13
really focus on this stakeholder
02:15
engagement and keeping people informed
02:17
and consulted about what's going on it
02:19
really has taught me you know getting
02:21
beyond the engineering side of things
02:22
about how you actually manage I really
02:24
diverse group of stakeholders they the
02:26
Opera House itself is a precinct it's
02:28
like a little bit of a city within a
02:29
city so we have you know we have our own
02:32
security team we have our own safety
02:34
teams we have food and beverage
02:35
operations we have retail operations we
02:38
run tours we have performing arts of
02:41
course you know that's what we are we're
02:42
a performing arts venue so we have a
02:44
broad range of Performing Arts
02:46
that we do here it's not just opera it's
02:49
all sorts of performing arts including
02:51
Contemporary Music symphony you name it
02:54
and then of course we have a lot of I
02:55
guess external stakeholders you know a
02:57
lot of a lot of the resident companies
03:00
who come and perform here the people who
03:02
come to visit the tourists and the Opera
03:05
House is you know it sort of belongs to
03:07
it does belong to everyone you know it's
03:09
Australia's opera an opera house so
03:10
really our stake holders are as broad as
03:13
being at the entire community engineers
03:16
understand systems really well and I
03:18
think you need to understand that you
03:19
are part of a system so if you are an
03:21
engineer you know encourage people not
03:23
just to think about what they're doing
03:24
and what their own role is but how they
03:26
fit in the broader scheme of things and
03:28
how they support you know a business or
03:30
how they support an operation themselves
While Cashen enjoys working in engineering , it was not what he expected to do when he started a civil engineering degree at UOW. In fact, he didn't have particular dream job in mind at the time.
"I always had a bit of a forte for mathematics and science," he says of his decision to study engineering. "I was leaning towards a commerce degree. Probably through my family's influence, they suggested I study engineering where I could combine my mathematics skills and interest in science.
"I don't think I really understood what engineers did when I graduated from university so it was a real learning curve when I actually started working in the industry."
His first role was in civil design before he moved into project management. It was in this role that he worked on Sydney Olympics venues including the hockey centre and the aquatic centre. Cashen then travelled overseas before returning to take up a role with Evans and Peck (now known as Advisian). In this role, Cashen was a Principal of the firm responsible for providing a range of high value advisory services to clients as well as managing the operations of the NSW branch comprising of 70 consulting staff.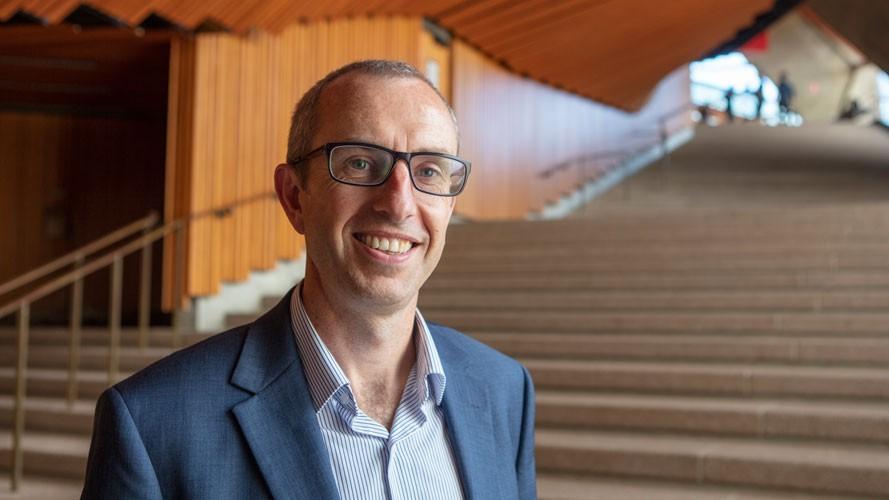 Ian Cashen.
"Evans and Peck gave me exposure to not just the project management and construction side but exposure to managing clients' needs and how you make a project work for a clients' business," he says.
It was while he was working with Evans and Peck that Cashen had his first introduction to working at the Sydney Opera House.
"The Sydney Opera House was one of my first clients at Evans and Peck and when my now predecessor in this role retired, the Sydney Opera House encouraged me to apply for the role," he said.
"At first it was quite daunting. The Sydney Opera House itself is a bit of a precinct, it's like a city within a city," Cashen says. "We have our own security and safety team, food and beverage operations, retail operations, daily tours and of course, a range of performances from our resident companies and our own programming team. It's a big role but I have a great team I can trust. You have to learn to lean on your team so it's not just on your shoulders.
"It is such a unique venue and challenging building. It's geometrically very complex. From an engineering point of view, what they managed to do in this building - particularly back in the 60s and 70s - was absolutely amazing and hadn't been done anywhere in the world. That makes it a really interesting place to work.
"It's also an incredibly busy place to work with live performances of all kinds going on every day except Christmas Day and Good Friday. Each year more than 8.2 million people visit the Opera House – whether that's to see a performance, go on a backstage tour or take in the architectural beauty of one of the world's most recognisable buildings."
Right now, the Sydney Opera House is at the midpoint of its Decade of Renewal project. It has completed upgrades to the Joan Sutherland Theatre to replace back-of-house theatre machinery and improvements to safety and accessibility in and around the venue. The next major project is the Concert Hall – the Opera House's largest and most popular venue. It will close in 2020 to improve acoustics, stage and backstage areas, theatre systems and accessibility.
The scale of works is so significant, Cashen has discussed it at several public forums including the Australian Engineering Conference in September 2018. Cashen was joined by Sydney Opera House CEO, Louise Herron, and architect, Professor Richard Johnson, to provide an update on the Renewal project to a group of architects.

Sydney Opera House.
Given the building's status as a national treasure, Cashen explains that stakeholder engagement and consultation is an important part to the success of the project.
"People care deeply about the building. It's important we keep the community engaged and informed about the Renewal upgrades," he says. "It really has taught me about how to manage a really diverse group of stakeholders whether that be the accessibility community, architectural and heritage community, local residents or our resident companies. It's Australia's Opera House so really our stakeholders are the entire community."
Cashen reflects fondly on his time at UOW. "It had a great community atmosphere," he says. "I just remember being on the duck pond lawn, with my mates just relaxing, it was good fun.
"I got a good sound foundation in engineering. It wasn't obvious when I started working how I would use it but you just come back to it all the time and you get a really broad understanding of engineering issues that I still use today."
His advice to aspiring engineers is to think about where you fit into the broader scheme of things.
"Engineers understand systems really well but you need to understand that you are part of a system," he says. "I encourage people to not just think about your own role but how you fit into the broader scheme of things for an organisation and how you can support a business or an operation themselves."
Interesting Sydney Opera House facts:
The original cost estimate to build Sydney Opera House was $7 million. The final cost was $102 million and it was largely paid for by a State Lottery.
233 designs were submitted for the Opera House international design competition held in 1956. Jørn Utzon from Denmark was announced the winner, receiving ₤5000 for his design.
Construction was expected to take four years. It took 14 years. Work commenced in 1959 and involved 10,000 construction workers.
Paul Robeson was the first person to perform at Sydney Opera House. In 1960, he climbed the scaffolding and sang Ol' Man River to the construction workers as they ate lunch.
Sydney Opera House was added to UNESCO's World Heritage List in 2007.
When the Sydney Symphony Orchestra is on stage in the Concert Hall, the temperature must be 22.5 degrees to ensure the instruments stay in tune. Temperature and humidity are critical to musical instruments.
A net was installed above the orchestra pit in the Joan Sutherland Theatre during the 1980s following an incident during the opera Boris Godunov. The opera featured live chickens and one bird walked off the stage and landed on top of a cellist.
The Sydney Opera House is cooled using seawater taken directly from the harbour. The system circulates cold water from the harbour through 35 kilometres of pipes to power both the heating and air conditioning in the building.
Source: sydneyoperahouse.com
---
Ian Cashen
Bachelor of Engineering (Civil Engineering), 1996