Susan Zhang describes her role as holding up a torch to all the scary and exciting possibilities the future holds.
---
The University of Wollongong alumna is a creative technologist at Google in London. She works in advertising, specifically delivering data-driven creative ideas and solutions for big-name clients including Burberry, British Airways and Air France.
"I think with technology particularly, we don't know what the future looks like," she says.
"But we can think about how it changes and shapes the future and I think this is both a bit exciting and a bit scary, because no one knows what is the next step and we are holding the torch and finding out. It comes with a lot of responsibility you have to think about a lot of things [and] factor in a lot of people from different perspectives."
Susan's career has come a long way since she first landed in Wollongong to start her Bachelor of Computer Science, Software Engineering in 2009. She says she moved 10 times in her seven years living in Wollongong.
"My friends said I had more roommates than classmates," she laughs. "I grew up as a single child in China, and as an only child I didn't do any domestic work. I didn't wash any dishes, I didn't know how to cook, I only know [how to make] instant noodles and hot water, tea and coffee, that's about it."
A transcript is unavailable. If you are having difficulty accessing the above video please contact alumni@uow.edu.au.
With this limited culinary skill set, she set to work in kitchens in a number of Wollongong restaurants. Her first jobs were washing dishes, then chopping potatoes for chips.
"I think the first five or 10 dishes [of chips] I made, they always returned them because they were not even," she says. "They were like between wedges and chips. So some of them burned, some of them were uncooked. Then they gave up on me and asked me to chop all the onions, and I felt sad. The onions made me cry anyway, so I'm just crying, like really loud, and I'm like, `I miss my home, I miss my family.'
Susan carried on working in kitchens for a couple of summers before she finally earned enough money to buy her first iPod, which she gave to her father for Father's Day.
"I probably cut the onions I could eat for the next five to 10 years to get a small iPod for my dad," she says. "The best thing's are all hard-earned."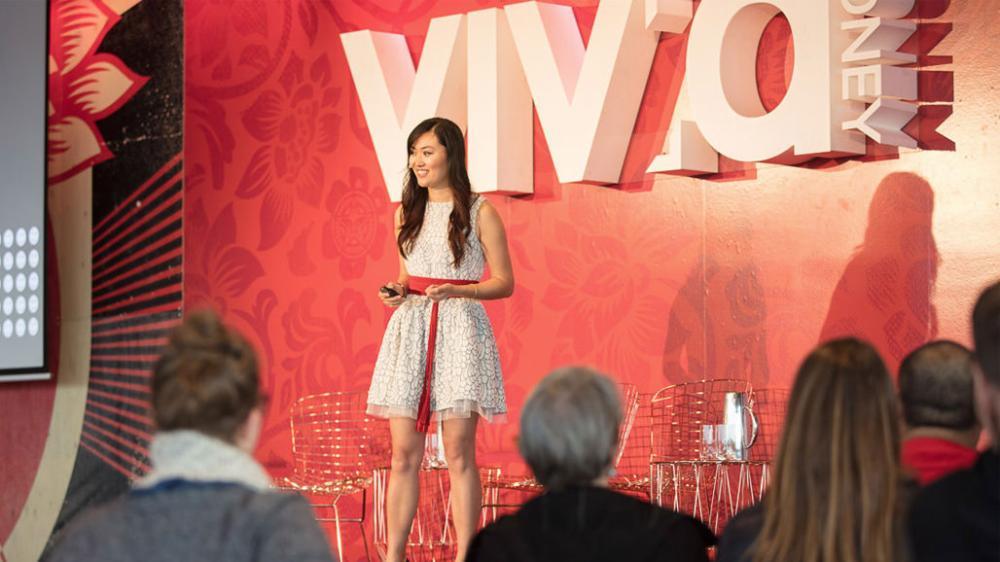 When she graduated, Susan went to work in a Wollongong-based IT company as a programmer, where she worked for three years. From there she went to work at Google in Sydney before moving to London with the company in 2016.
In between she has also started her own company, Dragon Translating and Interpreting Services, which is a cultural consultancy helping Australian organisations to set up in China. Among her clients are Australian government departments, city councils and universities.
Susan returned to Sydney to speak at the 2017 Vivid Sydney festival as part of a panel discussion on how to make cities more liveable. This was just the latest of Susan's speaking engagements which include TEDx Sydney in 2015 discussing creative thinking in entrepreneurship, and the Asia Business Forum hosted by London Business School in 2016 discussing Asia entrepreneurship and innovation.
In addition to all this work, she completed a Master of Information and Communication Technology in 2011.
Susan says the great thing about her undergrad degree was the flexibility it offered her to build her career.
"I started in computer science as a software engineer, probably a lot of people start from there," she says. "It's almost like, if you had a magic wand, what do you want to do?
"I think all the things we started at uni are more like a foundation, it planted a seed. But depending on what kind of flower or tree you want to grow, how much sunshine [you give it], [how much] rain you want to take, different kinds of shade or how tall you want it to grow, [these things] are always in your own control.
"I think a lot of graduates are unsure when thinking about their future. I would encourage them to a make plan. I have a 30-years-old retirement plan because I really want to retire when I'm 30.
"Always push yourself, nothing is impossible. Definitely know what you want to do, make a plan, even if it doesn't work out, you know the options to scratch out of the list but then you can go try different things that I think will ultimately lead you to the goal, so never start small."
If Susan's ambitious plan comes to fruition, she will retire in early 2018. But don't think she will be slowing down in her 30s.
"I really want to provide something good for my family and I want to spend more time with my family and I want to create time to learn more things, learn a third or fourth language to be able to understand people better, to travel more and every year, to bring my parents to travel to different places," she says.
Susan would also like to move into venture capital in the near future and has started building a network with that goal in mind.
"I think I probably need another three to five years to build that network and nurture that and be able to close the deal and be able to set up the fund," she says.
"I'm slowly planning all the dots and linking all the dots together towards the end goal."
---
Susan Zhang
Bachelor of Computer Science (Software Engineering) 2010
Master of Communication and Information Technology (Enterprise Networking) 2011