Each year, UOW Alumni Awards uncover exceptional alumni making an impact in diverse fields of endeavour right across the globe.
---
Jen Waters spoke to this year's winners: passionate and inspiring leaders driving innovation, dissolving barriers and fostering positive social change.
Alumni Award for Professional Excellence
Matt Bullock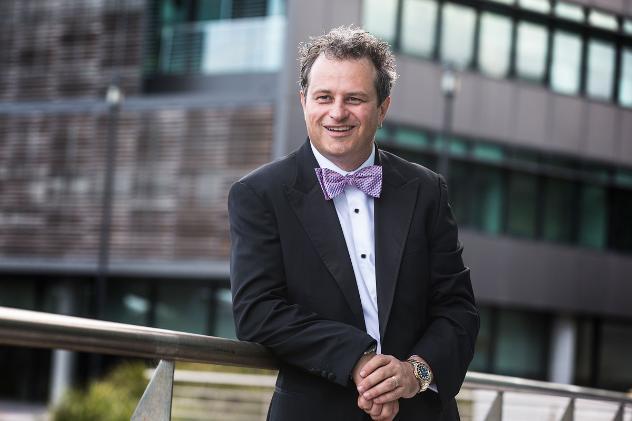 With drive, determination and skill, Matt Bullock turned an idea into a thriving business at the forefront of online commerce.
Bullock was prescient in recognising the potential of the internet for e-commerce, founding online payment gateway eWAY in 1998 – long before online purchasing became standard consumer behaviour. He built the business from his garage in his spare time, expanding rapidly and globally and forging innovative partnerships with market-leading platforms including NetSuite, Magento, Shopify, Xero and Apple Pay.
In his 18 years at eWAY's helm, Bullock steered it to phenomenal growth. When he sold the company to American payment technology services giant Global Payments in 2016 for US$50 million, it was processing around 5.8 billion online purchases annually – around a quarter of all internet-based transactions in Australia. Leading household brands including Catch of the Day, Brands Exclusive, Kogan and Qantas were among his more than 25,000 customers.
The multi-award winning entrepreneur then established Spinify, helping organisations engage and motivate staff and close the lost productivity gap costing over $70 billion each year to the Australian economy. He also created the Spinify Foundation – a registered charity supporting non-profit organisations such as OzHarvest, Ronald McDonald House and start-up incubators, and is committed to shaping a better tomorrow.
"I am passionate about the role of higher education in forming entrepreneurs of the future," Bullock says. "I hope to foster greater collaboration between the start-up community, universities and government to truly drive Australia's competitive position on the global stage and deliver better quality of life for all Australians."
---
Alumni Award for Research and Innovation
Dr John Best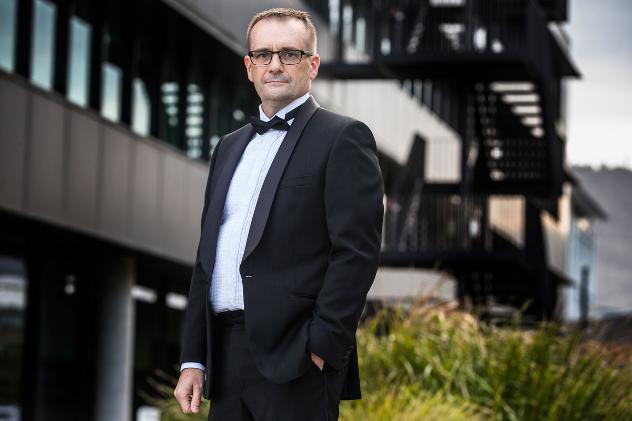 Dr John Best has leveraged his doctoral research to achieve high impact outcomes in industry and provide exemplary research and development (R&D) leadership.
As Vice-President, Chief Technical Officer at Thales Australia, Dr Best has steered substantial capability improvements and worked to better align the company's R&D program with its broader strategic direction. Critically, he has enhanced Thales' engagement with the innovation ecosystem – including universities, supply chain and start-ups – to foster new technologies and solutions.
Dr Best is also Director of the Defence Materials Technology Centre (DMTC), of which UOW is a key participant. He led a visionary R&D collaboration between Thales and DMTC contributing to the design and manufacture – in volume, and in Australia – of an armoured vehicle that is highly trusted by its users and won a prestigious Eureka Award in 2013.
Prior to this he spent 15 years with the Defence Science and Technology Organisation (DSTO) on underwater weapons effect modelling, mine warfare operations research, synthetic environments and naval combat systems.
Dr Best's readiness to explore manufacturing innovation and R&D collaboration has delivered significant and enduring benefit to Australian manufacturing. He is a shining example of the marriage of deep scientific and technological insight with a flair for management and industry.
"I'm interested in the discovery of new and interesting things, particularly counter-intuitive things," Dr Best explains. "At this point in my career it's more about me finding other people who have discovered those things – whether in industry, universities or start-ups – and helping translate those discoveries into commercial and societal value."
---
Alumni Award for Social Impact
Sally Riley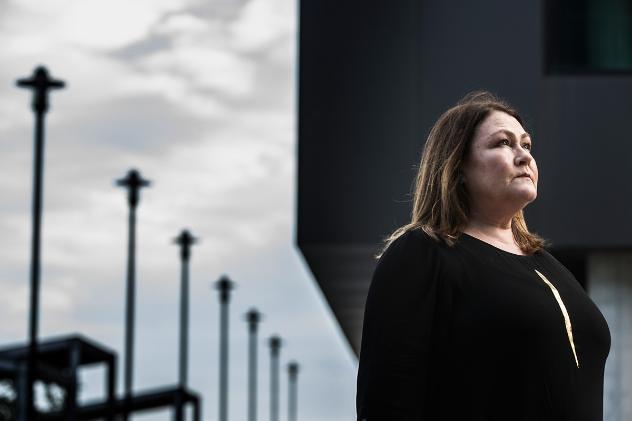 Wiradjuri woman Sally Riley has used her voice and talent as a filmmaker, writer, developer and producer to shift common perception – and misperception – of Indigenous life in Australia and increase the participation and profile of Indigenous artists.
Riley has been a driving force in the development of an innovative and vibrant Indigenous production sector. Earning acclaim as an independent filmmaker, she then spent 10 years fostering a new generation of Indigenous artists in Australian film and television as Screen Australia's Head of Indigenous Department.
She joined ABC TV as Head of Indigenous in 2010, and in the ensuing six years delivered an outstanding track record of programming that broke new ground in the industry. Under her guidance, programs including Black Comedy, Redfern Now and Cleverman captivated Australian audiences and heralded a new approach to Indigenous representation in a diverse modern Australian society.
In 2016, Riley was promoted to Head of Scripted Production at ABC TV in 2016, where she leads the Fiction, Comedy, Indigenous and Children's production teams.
Among numerous accolades, in 2016 Riley was named among the Top 100 Foreign Policy Leading Global Thinkers, a program celebrating thinkers whose ideas have translated into action that has changed and shaped the world.
"I've always had a really strong sense of purpose," says Riley. "I want to change the face of Australian television; to change hearts and minds and give people a better understanding of Indigenous life and people. I believe that the best way to do that is through entertaining them and engaging them emotionally."
---
Young Alumni Award
Deng Adut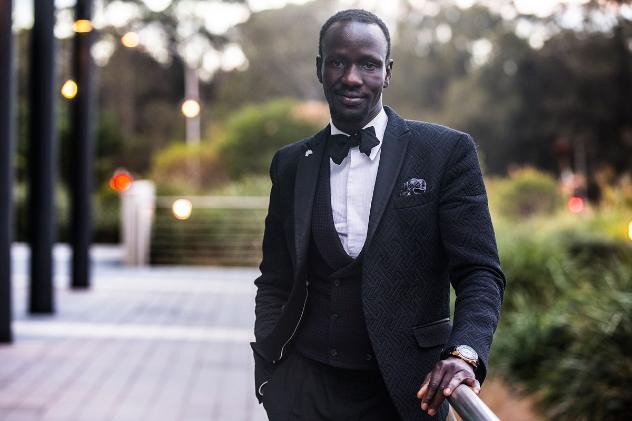 Deng Adut has overcome incredible adversity to become a successful lawyer and a tireless advocate for refugees and human rights.
At just six years old, Adut was taken from his parents and his South Sudanese village and forced to become a child soldier. He witnessed countless atrocities and endured torture, malnutrition and disease before fleeing, eventually gaining a life-changing Australian visa.
Arriving as a 14-year-old with no previous education, Adut learned to read, write and speak English while working to support himself and his family back home. He went on to study undergraduate law, subsequently earning two master's degrees.
As co-founder and partner at Blacktown law firm AC Law Group, Deng balances a challenging caseload with extensive pro bono and volunteer work – advocating for Sudanese refugees, working to improve relations between the local African community and police, and giving countless hours to mentoring.
Adut's stirring Australia Day Address in 2016 focused on valuing freedom from fear and inspired new understanding of the plight, capabilities and contribution of Australia's refugee population. He was named NSW Australian of the Year in 2017.
"Though recognition doesn't influence what I do, it amplifies the voices of other people and mobilises them to help others," explains Adut.
"It is important that we give people that have suffered so much for so many years of their life some hope. If you give them hope, miracles can happen. Change can happen."
---
Matt Bullock
Bachelor of Computer Science (Computer Science & Mathematics), 1993
Dr John Best
Doctor of Philosophy (Mathematics), 1991
Sally Riley
Bachelor of Creative Arts (Theatre), 1991
Deng Adut
Master of Laws (Criminal Prosecutions), 2014