Though they have each ventured down different paths in their careers, each could not be prouder of the other's achievements.
---
Malaysian couple Noor Ilias Mohd Idris and Sean Helena Hamzah both studied mechanical engineering at UOW. Though they have each ventured down different paths in their careers, each could not be prouder of the other's achievements.
UOW mechanical engineering alumna Sean Helena, 50, graduated from her degree in 1991. She initially took up a role as a quality engineer with SONY-TV in Malaysia, the role was an easy fit thanks to her specialisation in Japanese manufacturing techniques during her studies.
She also worked for Petronas, where her husband Noor Ilias has worked for the past eight years, spending two years with the company before leaving to undertake consulting work.
However, Sean Helena shifted to a much different working scenario by not only taking on the main responsibility for raising five young children, but also volunteering to assist disadvantaged children in developing countries.
She is actively involved, including as Treasurer, for the non-profit charity organisation Our Touch Community. The organisation provides and promotes affordable journeys for mainly young volunteers from various fields of expertise wanting to assist the disadvantaged. It is aimed at giving travellers an opportunity to explore the world and combine that with charity work to help poor children.
Funds raised for a particular project go entirely to helping the particular community in need. Volunteers are expected to pay their own way, including flight tickets, accommodation and food.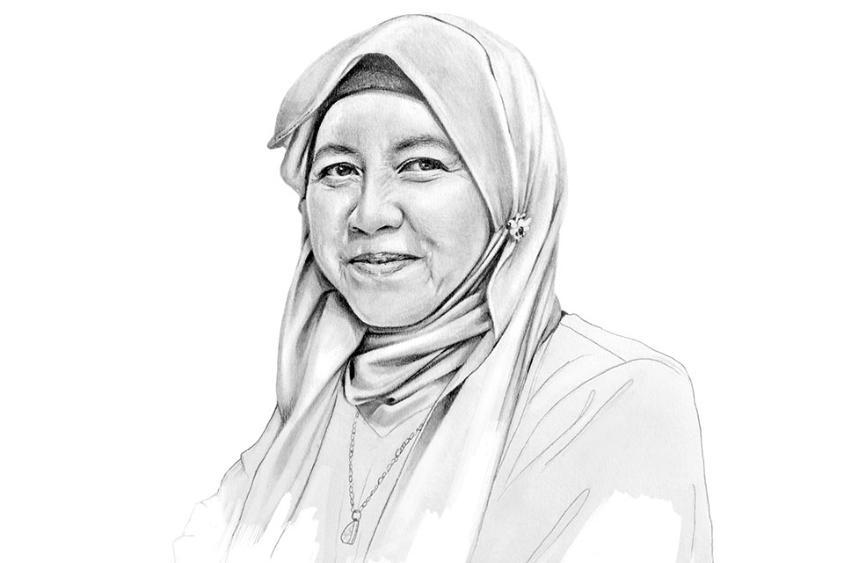 Sean Helena Hamzah: illustration by Claire Foxton, Bachelor of Creative Arts (Visual Arts & Graphic Design), UOW 2009.
Sean Helena joined in 2013, and her first trip was to Cambodia to help a community in Siem Reap who were living in utter poverty. The first project there at the request of the locals was to build a mosque and a hall.
"We also spent time with the children teaching them to make kites, to read and play games," Sean Helena recalls. "We provided food supplies including to surrounding areas. In one short week, we made friends for life."
Another trip they took in 2013 was to Lombok, where they found an orphanage in dire need of help. The Our Touch volunteers taught subjects like English, mathematics and science, as well as assisting with hygiene issues. They organised games and sports, distributed food, painted the playground and taught the children gardening. Over the last few years there have been return visits, working on small improvements.
Their charity work is also done in Malaysia itself. Volunteers helped orphanages during the festive seasons, which included entertaining the children, providing food and books, taking the children shopping for clothes and breaking fast with them during Ramadan.
Last year, the organisation raised funds to supply 1,500 children with school bags and stationery. Their efforts reach all of Malaysia including Sabah and Sarawak, and involve children, the homeless, single mothers and poor communities.
Volunteers have travelled far and wide over the past five years since the organisation was founded, including to Jordan to assist Syrian and Palestinian refugees.
And their scope is broadening with about 20 volunteers, including Sean Helena, heading to a remote village in Borneo in November this year and to Mongolia next year to assist children with teaching and health issues.
"I think it's very important for the younger generation to take this up and I certainly impart the importance of this work to my own five children," Sean Helena said.
Sean Helena's voluntary work also extends to time she devotes giving back to the University of Wollongong. She was President of the UOW Malaysia Alumni Chapter, and she played a key organising role in the 2015 UOW Alumni Chapter Dinner held in Malaysia.
"My husband and I love meeting people: we actually started organising our own alumni gatherings back in 1991 and it's great to have UOW playing a much bigger role in running overseas alumni events these days."
00:05
I graduated in mechanical engineering in
00:07
memory of Wollongong in 1991 I was very
00:11
involved with volunteering work with my
00:13
NGO which is called our touch community
00:16
this is a traveling volunteers so we
00:19
travel to third-world country and do
00:22
volunteering work in 2012 I become very
00:26
serious in volunteering I would touch
00:28
which is a group of young people from
00:31
organization together which concentrate
00:33
on volunteering and travelling which is
00:37
my patient basically because I love
00:39
travelling and I love doing things with
00:42
people so those two connect to each
00:44
other I went to Cambodia and I loved it
00:47
and this is where the phrase come about
00:50
volunteering is an addition once you
00:53
Danny you get addicted for life and from
00:56
there on I never stopped we have two
00:59
major projects one is Longbottom in
01:02
Sarawak and this is actually to do
01:04
health check-up and also to improve the
01:07
library do some community service to
01:10
village further inside Borneo so we are
01:13
bringing about 28 volunteers came from
01:16
different profession from medical line
01:18
which is cool everybody is inside that
01:22
group and we are going to do that to
01:24
benefit the community there and the
01:27
second project which is the first
01:29
international project that we are doing
01:30
is to go to Mongolia this is will be
01:35
working together we finished science
01:37
around Development Fund NGO in Mongolia
01:40
and we are going to do some social work
01:43
with you in terms of teaching children
01:46
in the orphanage and center and also the
01:50
hi my name is nour Ilias oh how many
01:54
differ and I've been working for pet not
01:56
fertilized for more than 20 years now
01:59
I'm responsible for managing a project
02:03
the pattern assessed throughout domestic
02:06
and also international and I'm a head of
02:09
project delivery record for downstream
02:11
Doubletree meant to be those activities
02:15
on show Saba oil and gas terminal is its
02:19
acidity project actually been among the
02:22
first mega project that we are embarked
02:25
on at the sebastio of Malaysia
02:28
I was the vice president of the Malaysia
02:34
Student Association we have like a 400
02:37
Malaysia student in no longer at that
02:39
time it was the biggest Association that
02:42
we have internally versus overseas
02:44
international too many memories good
02:46
memories and we really enjoy our life in
02:49
Milan god oh my god we have lots of fun
02:52
study and that's where we always tell
02:56
our children doing studying time is the
03:00
best man when you start working that's
03:02
where the stress came aboard so our
03:06
whole family - energy were long gone
03:08
about two years ago the other six used
03:10
to show them business where we had to be
03:12
studies the man the bad memory
Noor Ilias has chosen a different career direction to the voluntary community capacity-building work undertaken by Sean Helena, using his mechanical engineering degree from UOW to climb the managerial ladder at one of the world's largest corporations.
Fifty-one-year-old Noor Ilias graduated in 1990 and since 2008 has served in a number of different roles with Petronas. Established in 1974, Petronas is Malaysia's fully integrated oil and gas company and is ranked among the largest corporations on FORTUNE Global 500, operating in more than 20 countries. As custodian of Malaysia's national oil and gas resources, Petronas explores, produces and delivers energy to meet the country's growing needs.
Since 2014, Noor Ilias has been working as General Manager for Project Delivery at Petronas. It involves ensuring that major projects undertaken by Petronas come in within their budget limit, and also within strict timeframes. Earlier in 2012 Noor Ilias was Director of the Sabah Oil and Gas Terminal Project – an onshore Malaysian oil and gas receiving, storage, processing and export terminal.
"My wife has taken on a much different working life to what I am doing, and we are both very happy in the directions we have taken. I try to support Sean Helena in her travels so she can undertake her voluntary work as best as I can. At the same time, she understands my job is a very busy one and I am grateful for the extended role she does managing our house and children."
Noor Ilias first met Sean Helena when they attended high school in Sydney and, strong in mathematics, both chose to go to Wollongong to study mechanical engineering.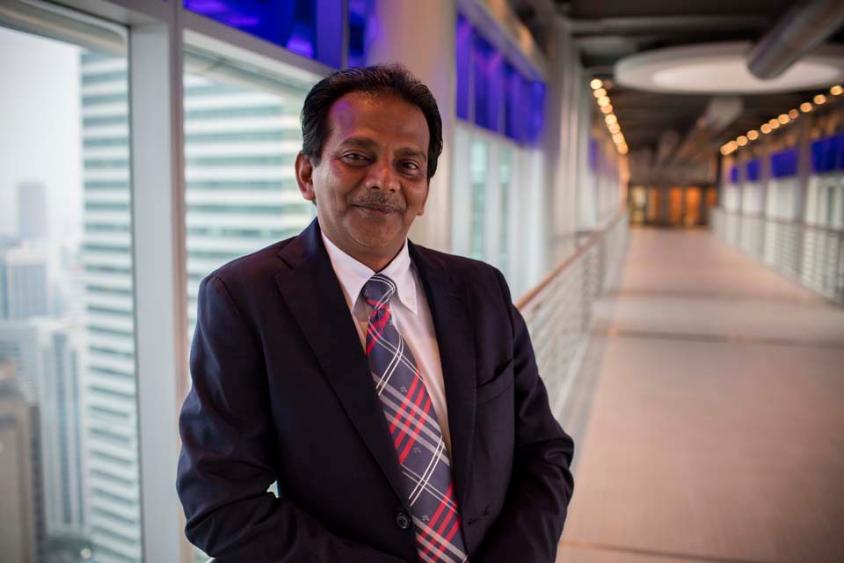 "Initially it was just a friendship between us, but it blossomed into love as we progressed through our degrees," Noor Ilias recalls.
"When my father died on the day I was to sit my final exam, I had to return to Penang. I found out that when I was away Sean Helena had been praying for my father and I knew then she was the girl for me."
During his student days, Noor Ilias proudly pointed out that the Malaysian Student Association was the biggest of any overseas student association at that time.
Noor Ilias says he has many fond memories of UOW and has happily joined in with reunions of UOW alumni in Malaysia, including attending the Alumni Chapter Dinner in Malaysia last year with Sean Helena.
"From memory we had about 400 students involved in the association, of which I was Vice-President."
Noor Ilias said the association held a range of Malaysian cultural events at UOW which helped the Malaysian students "feel closer to belonging to the University".
The couple's shared affection for UOW is so strong that several years ago they brought their family to the University to show their children where they both had studied.
Noor Ilias praised UOW for actively taking over the role of organising alumni events overseas pointing out that it was difficult for himself and Sean Helena to try to gather all the Malaysian alumni together who worked and lived across many areas.
"The University is able to use its resources to draw together all the alumni. And I know from my peers that UOW is really the most active university in this regard," Noor Ilias said.
His advice to emerging young graduates is to ensure they develop good communication skills over and above the basic qualifications they are pursuing. He also urged them to develop leadership roles while at university as this will carry through into their future working lives.
While their respective work takes them on separates paths at present both Noor Ilias and Sean Helena agree that after the children grow up they are looking forward to travelling together and, of course, the possibility of grandchildren joining the family clan.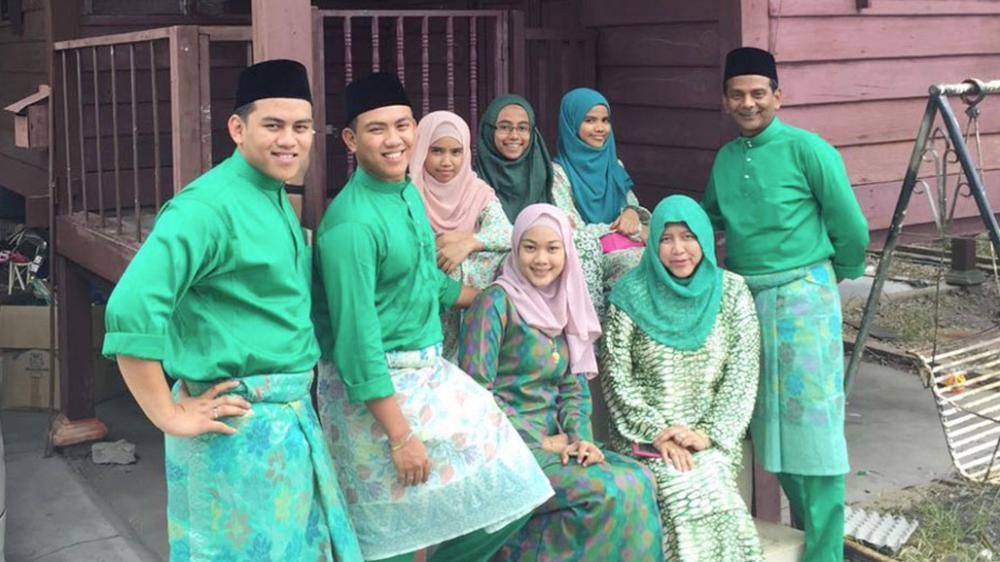 ---
Noor Ilias Mohd Idris
Bachelor of Engineering (Mechanical), UOW 1990
Sean Helena Hamzah
Bachelor of Engineering (Mechanical), UOW 1991