"You need to have strong drive and the passion and motivation to take a company to new heights to be able to meet the challenges you will face in business."
---
Jin is President of BlueScope Coated Steel in China, producers of coated and painted steel products for the Chinese building and construction markets. The company has more than 300 employees and an annual revenue of around US$150 million, and is a business unit of BlueScope China – one of Australia's largest investments in the region.
BlueScope Coated Steel has grown under Jin's leadership; in the last financial year, the company boosted its sales volume by an impressive 25 per cent. Central to this growth, Jin says, is a comprehensive change in strategy, processes, and people: a revitalised sales approach, enhanced customer focus, and attracting and retaining the best employees to drive the company forward.
"China's economy has experienced a downturn," he says. "The flip-side of that coin is that we are able to attract top-notch talent by offering them a better platform to play to their strengths. The right people are crucial; I am active in the recruitment of basically every employee in the company, particularly the sales team."
Jin's career backstory is somewhat unusual. In his early 20s, with a medical degree from Shanghai Jiao Tong University under his belt, he was working as a personal assistant to the president of a hospital. But his heart just wasn't in it.
00:05
My name is Patrick Jing and I'm the
00:07
president of coated steel China. At the
00:10
moment we are the biggest single
00:13
investment from Australia. We have about
00:16
300 employees with any turnover of 150
00:21
million US dollars and as a publicly
00:26
listed company in Australia, our
00:27
performance is strongly linked to the
00:30
overall performance of our global
00:32
business. We make metal coated steel
00:35
products and also painted products and
00:38
basically, they are selling into a few
00:41
segments. One that biggest one is the
00:45
industrial building segments which is
00:47
basically you look at Volkswagen, General
00:50
Motors, caterpillar, all these big B2B
00:53
customers. They make all the
00:56
manufacturing equipments and machinery
00:59
or cars in the, you know, single box type.
01:05
We call the pre engineering buildings
01:07
and second is public buildings. If you
01:11
look at all the airports terminals, for
01:15
railway stations, stadiums, all the roofs
01:18
are made of our steel products. Korea
01:22
change from medicine to business is a
01:25
huge change it's an unconventional
01:28
career development. It turned out to be a
01:31
good choice. I'm a happier person. I found
01:36
some places that I can utilize my
01:39
qualities and still helping people. I
01:42
said to myself: okay maybe the way forward
01:45
for me to change my career is to pursue
01:47
a MBA degree. So I apply for degree in
01:51
Australia because I really want to find
01:53
a campus that I can, you know, constituent
01:58
on my style, have my focus given I
02:01
haven't really done any business
02:03
subjects before. So, and about choosing
02:06
one Hong Kong for a number of reasons.
02:09
Dirst reason is to get very nice Beach
02:12
and so I end up living next to, to
02:17
North Gong Beach and the second is candid
02:21
very nice campus. I would reckon this is
02:25
a, well, the most beautiful campus in
02:29
Australia with a little duck pond I
02:32
still remember. Yeah and certainly you
02:36
know in terms of the other qualities of
02:38
the education Hong Kong was among the
02:43
best out of all the possible rankings
02:46
from the Korean University guide and QS
02:50
and other, you know, public rankings. I
02:54
still believe this world and a lot of
02:56
people enjoy helping people. So, I also
02:58
end up, you know, helping lots of alumni
03:02
from Wollongongong Uni, finding jobs or giving
03:04
them suggestions. I really enjoy helping
03:07
people and use my personal stories, the
03:10
challenges, you know, some case I've done
03:13
before. I probably cannot repeat all
03:17
the time but I've got lots of help from
03:19
people so I'd like to repay the trust by
03:29
As a general manager or presence you
03:32
need wear different hats and one very
03:35
important has a part from where in the
03:38
engineer hats when wearing the player,
03:40
the coach, is to be a priest because you
03:43
are the only one that can, you know, tell
03:46
people you see the light at the end of
03:48
tunnel during the dark time and make
03:52
sure you make comic things simple and
03:55
make single things compelling. Make sure
03:58
people understand your vision, your
04:00
strategy, your actions and they do
04:02
believe in you in person and you do
04:05
deliver the promise and the result and
04:07
you're not afraid to tell people about
04:09
the bad news and of course the good news
04:13
as well. So, so, if you ask me to summarize
04:18
I would think, you know, the passion to
04:20
drive the business to new heights is the
"I tried to be a good doctor, but quickly found out I wasn't really meant for performing operations," he recalls. "I wanted to be a businessman who could do a good job in the boardroom – I could already see myself there. I could still help people, just in a different way."
He visited an education fair in Beijing in 2001, where a conversation with a representative from UOW helped firm his new path. Jin enrolled in the Master of Business Administration (MBA) program, packed his bags, and headed for Australia.
"I still remember the recruiter telling me: 'Patrick, Wollongong is the eighth biggest city in Australia. You will never regret it – just come over.' I was deliberately trying to avoid big cities; coming from Shanghai, I wanted to find a great campus where I could really concentrate on my studies in a nice environment and a less commercial city. It turned out to be a great result: UOW became the driver in my career change."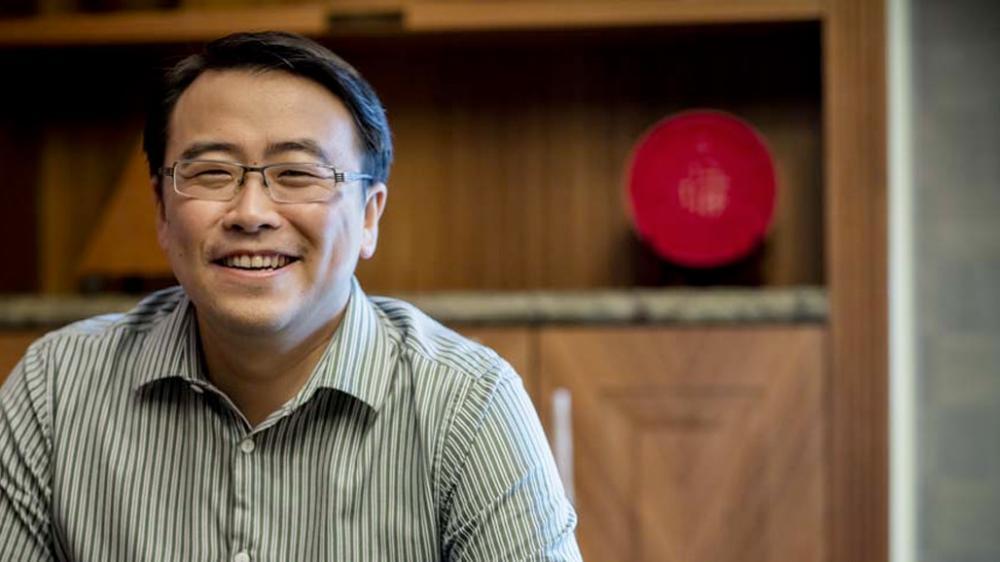 Shifting careers in his mid-twenties, Jin says the MBA program was a clear choice.
"It's a ticket to the game," he says. "Without the degree, I wouldn't have been able to convince my future employer that I had the potential to grow and learn. An MBA shows a capacity for flexibility and curiosity."
Jin understood that while it would stand him in good stead, he would need more than an MBA to realise his dream of leading a major corporation. "I knew that I had no advantage over people in the job market who already had some business experience. My resume would have been thrown into the bin by recruiters within three seconds."
Determined to expand his resume before graduation, he combined his lectures to allow for a three-month period without classes and began his job hunt in earnest. Disappointed by a lack of response, he turned to the then head of the Graduate School of Business, Associate Professor Peter Gibson, who suggested he contact BlueScope Steel's then Vice-President (Operations Planning), Dr Peter Robertson. After some fast talking, Jin managed to convince Robertson of his potential, leading to a short-term internship in Strategic Accounts Management at BlueScope's Port Kembla base.
With his studies almost complete, Jin's thoughts turned to returning home to China. As part of a final assignment he quite deliberately designed a business plan that required an interview with BlueScope Steel Asia, creating for himself an opportunity to wedge a foot firmly in the door. In 2004 he became the company's first ever management trainee; little more than five years later he landed his first senior executive role as Vice-President of Sales, and a rapid rise through the ranks ensued. He was appointed President in April 2015.
Jin had clearly found his true calling. He has now been with BlueScope for 12 years, and believes those key values that marked his entry to the company – curiosity, insight, inspiration, and determination – have been crucial to his success.
"These qualities are what multinational companies like BlueScope look for in a leader. You need to have strong drive and the passion and motivation to take a company to new heights to be able to meet the challenges you will face in business."
Having experienced first-hand the incredible power of leveraging relationships, Jin says that capturing the attention of the right people can make all the difference.
"You need to make sure you have the right people to help you out. Work out the best strategy, and who to influence, engage and involve. Get a foot in the door; understand the dynamics of the work environment; get some early wins. And don't be afraid to dream and to chase those dreams."
---
Patrick Jin
Master of Business Administration, UOW 2003