When it comes to international influences for his work, Dr Laurens Tan has it covered; few other artists consider themselves concurrently a local in Las Vegas, Beijing and Wollongong.
---
Tan was born in The Netherlands to Chinese-Indonesian parents, spending his early childhood there and then in Indonesia and Singapore before migrating to Australia with his family as a 12-year-old. In Australia he has lived in Northern NSW, Melbourne, Sydney, Adelaide and Wollongong; he has resided and worked in Beijing and Las Vegas, with artists' residencies in Canada, the United States, France, Japan, Turkey and Australia thrown into the mix. He is something of a nomad, traversing the boundaries of culture and language.
"I felt for a long time that I was brought up and lived out of a suitcase," Tan recalls. "Whereas a lot of people feel they belong to one place, I seem to be constantly searching."
This ambiguity and evolution of identity and culture, of cultural connections and contradictions, drives much of his work. China, and what Tan refers to as his 'lost' Chinese heritage, is a substantial influence; this year marks his tenth anniversary as a part-time resident of Beijing.
"My Chinese heritage was obscured by travelling so much elsewhere. I went to China for the first time in 1987, and that was interesting: people were calling me brother, even though I spoke not a word of Chinese. That had a strange effect on me, given the obscurity of my heritage."
Tan's journey to a career as an artist is an unusual one. His upbringing conventional and his father a career academic, art was seen as a time-wasting occupation. He was led – quite literally by his father's hand – to a degree in economics and commerce with a view to teaching, but his fundamental distrust of double-entry accounting put paid to that idea.
He subsequently worked as a musician, a cook at a fast food chain, a dishwasher at an Indian restaurant, and as a ticket- and sign-writer. But a move to Adelaide perhaps marked the real beginnings of his career as an artist and educator; Tan enrolled in mature-age studies in fine arts education, and secured his first lecturing post at the Whyalla Community College. Around this time, his then wife brought home a pottery wheel.
"I was watching her try to throw pots, I went to some of the classes, and I became smitten. So I changed my major to ceramics, which was to become my main form of practice for the next 20 years."
Like his multifarious cultural identity, Tan's artistic practice defies pigeonholing. His transdisciplinary approach takes digital 3D modelling as a foundation for narrative space, linking industrial and graphic design, animation, music, film, architectural prototyping, sculpture and drawing.
"It's not the form of media that would define me – more like a composer that assembles parts into a meaningful selection. I operated solo in my constructions for two decades, but the size and scope of projects has led me to work with collaborators since the mid-90's to realise them."
Taking up his first academic post in 1986 at the University of Wollongong, where he also attained both his master's degree and doctorate in creative arts, Tan says the city's late 80's industrial milieu spurred one of the many evolutions in his work.
"All that steel lying around – it got me welding. I started out making stands for my ceramic pieces, then the ceramic pieces became smaller and smaller components of the sculpture until eventually they were all steel."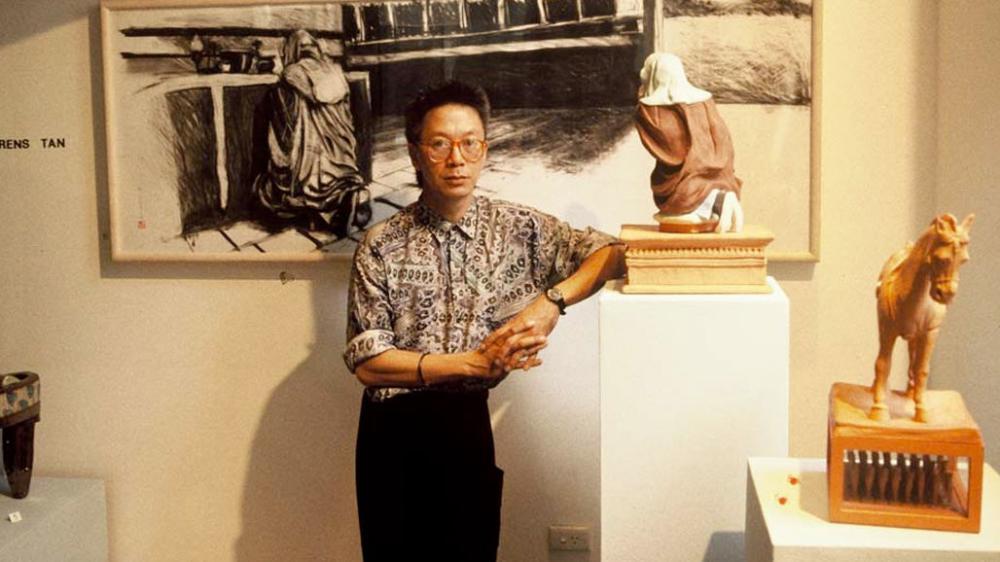 An internationally celebrated artist, Tan's work is held in seminal public and private collections across Australia, China, Japan, the United States, Europe, and the Middle East. He has been awarded numerous grants and prizes, and has exhibited widely across the globe.
Tan maintains studios in Beijing and Las Vegas, and depending on where the projects take him, splits his time between the two divergent cities and his Australian base on Wollongong's northern beaches. He sees each place as an essential anchor in his continued research and the evolution of his practice.
"For me, what constitutes home is seasonal," he explains. "At the moment I'm 'following the money', and going where the commissioned projects and exhibitions lead me."
---
Dr Laurens Tan
Master of Creative Arts (Visual Arts), UOW 1991