Former University of Wollongong Vice-Chancellor Emeritus Professor Ken McKinnon AO and his wife Suzanne Walker have gifted more than $1 million to UOW for a fund that fosters innovation and supports excellence.
---
The $1.3 million personal gift established the McKinnon Walker Trust, with income generated from the endowment disbursed annually at the Vice-Chancellor's discretion.
The Trust supports the 'green sprouts' of new ideas and fosters a culture of innovation through the allocation of funds to academic staff, professional staff and students for innovative programs, activities and ideas.
Emeritus Professor Ken McKinnon AO, a Harvard-educated leader, was UOW's second Vice-Chancellor, serving from 1981 to his retirement in 1995, along the way becoming known as the 'architect' of the innovation that flows in the lifeblood of UOW.
Emeritus Professor McKinnon had a varied educational career including in remote Oodnadatta, 20 years in Papua New Guinea – seven as Director of Education - and seven years in Canberra as the founding Chairman of the Whitlam Government's Schools Commission.
00:07
it's always been our intention to leave
00:10
the bulk of our estate to the University
00:13
I'd set Akane well why don't we give
00:16
that to the University now because there
00:18
are so many people with good ideas and
00:22
they get squashed down because there
00:25
isn't a way to help them forward and I
00:27
think if we can do that that will be
00:29
wonderful I came with a vision that the
00:32
university had to be built up and
00:33
quickly and part of that was to build up
00:37
the educational offerings and the
00:40
self-confidence of the staff so that the
00:43
important thing in that was to persuade
00:46
people that being in Wollongong wasn't
00:48
being on the outer I took of you that
00:51
that I had to have a philosophy which
00:54
was that we were educating kids not just
00:56
giving them courses the campus had to
01:00
reflect an educational approach to life
01:03
so I had a lot to say to the architects
01:06
and getting the city aware of the
01:12
importance of the university was the
01:14
thing we put a lot of time into when I
01:17
come back to the campus I just love it I
01:20
love the water i love the darks I love
01:23
the wildlife around it's a fantastic
01:26
place to study fantastic this place
01:29
where people feel good and that's an
01:31
important thing one of the things that
01:34
Ken did I think that perhaps epitomizes
01:37
it the way he wanted the culture to go
01:39
was it when we first came they had a big
01:42
notice of the gate saying stop and he
01:45
changed that to welcome all those little
01:49
are big in terms of how the university
01:55
develops first steps from an idea to the
01:59
first prototype about most difficult
02:02
what's stopping you from going ahead oh
02:06
I'm got 5,000 to buy this piece of
02:09
something rather or what to go on the
02:11
trip that would make this work that's
02:13
what I think you should spend the money
02:15
on any little greetin see around that I
02:19
can't predict in advance which of them
02:22
will work and also I think the vast
02:25
chances going to have some money that it
02:27
doesn't matter if it doesn't work
02:29
somebody who said well I've worked on
02:33
this or I could work on this and in
02:35
three weeks so I could give you a case
02:38
for doing it better give them the money
He took on with enthusiasm UOW's rapid development, from a college serving the local steel industry, to a modern university with world-class research and exceptional teaching quality.
Emeritus Professor McKinnon's vision and leadership led to the now much-loved green campus setting, the commitment to educating students in many ways, the opening of new faculties, and the establishment of a successful international university in Dubai.
The gift also indicates the couple's attachment to UOW as alumni: Walker graduated with a Bachelor of Arts with a Major in Psychology in 1985 and Emeritus Professor McKinnon has two UOW honorary awards – Emeritus Professor and Honorary Doctor of Letters – among five other honorary awards.
Emeritus Professor McKinnon and Walker called on the University community to "surprise" them with what could be achieved through the gift.
"The core goal is to foster widespread commitment to innovation and be a particular avenue of support for excellence," Emeritus Professor McKinnon said.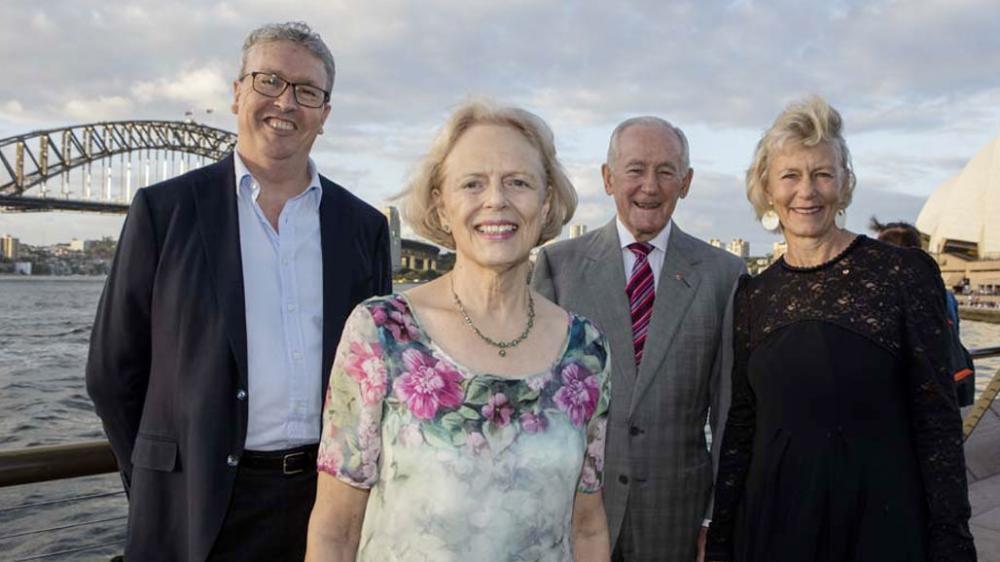 Left to right: Emeritus Professor Paul Wellings CBE, Suzanne Walker, Emeritus Professor Ken McKinnon AO & Jillian Broadbent AC.
"The spur comes from the experience Suzanne and I have gained through more than 40 years in several government and academic consultative roles, of the desirability to have funds, in addition to normal carefully budgeted institutional funds, with which the Vice-Chancellor can bring life to ideas likely to improve the University."
Vice-Chancellor Professor Paul Wellings CBE paid tribute to Emeritus Professor McKinnon and Walker's vision and thanked them for their transformative gift.
"From supporting and providing opportunities for all through higher education, to accelerating the growth of ideas in the research domain, philanthropy in education has the power to achieve extraordinary outcomes," Professor Wellings said.
"The pages of our official history record Emeritus Professor McKinnon saying that when he took on the role as Vice-Chancellor in 1981, he wanted to create a regional university that would make people 'really sit up and take notice'.
"In keeping with that sentiment, our Strategic Plan sets out the goal of higher education making a real difference in society by creating an environment where our staff and students can explore new ideas and technologies that make a positive impact on our social and economic wellbeing.
"This gift will enable us to make a bigger impact."
---
The 2016 McKinnon Walker Grant
As part of the refreshed 2016-2020 Strategic Plan, UOW has developed the Campus Master Plan, creating a vision and guide to the physical development of the Wollongong campus over the next 20 years.
Concurrently, there are a number of strategies aimed at enhancing the University's digital infrastructure to ensure that learning at UOW is invigorated.
To ensure student input into the future plans for the campus, the McKinnon Walker Grant for 2016 supported an international study tour for a group of seven students representing all faculties, examining best practice in physical and technological aspects of the student experience and learning and teaching spaces.
They visited a selection of leading institutions in the United States and Europe, each carefully chosen for its excellence and innovative approach to the student experience.
Participants brought their shared learning back to UOW in the form of a Report presented to the Executive Leadership and their fellow students.
---
Emeritus Professor Ken McKinnon AO
Honorary Doctor of Letters, UOW 1994
Emeritus Professor, UOW 1995
Suzanne Walker
Bachelor of Arts (Psychology), UOW 1985