"Getting up and running in a high pressure, high expectations environments on the other side of the world was like climbing a mountain."
---
Paul Batten's love for fast cars starts, in part, at Picton public library: as a nine-year-old boy reading car magazines while waiting for the bus. There he'd pore over details of supercars like the McLaren F1, never dreaming he'd work for such a company. Today, after a career in Melbourne working on V8 race cars, he's testing the world's fastest machines for McLaren at their test track in Spain.
"The glamorous side of my job is that we are working on the development of the upcoming McLaren road car models," Batten explains. We have three series: sports cars, supercars and hypercars. The sports cars are the 'slowest' and go from 0–100kph in 3.2 seconds; the hypercars have 900 horsepower and only take 2.7 seconds. As you can imagine, they are pretty special and a lot of fun to work on.

"We have to consider a lot of stuff you don't have to worry about on, say, a Ford Fiesta," he says, though in comparison to cars like the McLaren P1, the clarification hardly seems necessary.

"The first test I did here in a car was an aerodynamics test at a top speed of 250kph, a speed the V8s I used to work on would struggle to reach. We do a lot of testing on race tracks, as our cars have to be up to the challenge of track days with their owners, and that surprised me – that you could basically take one of our cars and do the Le Mans 24-hour race and it would stand up to the punishment."

The facility he works at is IDIADA, a private test track and proving ground. Car makers take their machines there to test their limits and evolve their designs – everything from small consumer cars to the race-bred machines Batten works on for McLaren. It's a long, long way from Wollongong, but he still finds himself drawing on his undergraduate days at UOW.
"It's funny, some of the things I thought I would never have any use for I did need – and in hindsight I wished I was paying more attention when the lecturer was trying to explain it!
"I think what has stuck with me are the approaches to learning and solving problems and realising at times that we have to work together and motivate each other to get through it. It can be a bit of an ordeal at times but at the end you get the piece of paper to say that you survived it, and that gives you the confidence to stick out more challenges down the line.
"Looking back I think some of the tougher times were the better times. Times when assignments and exams were stacked on top of each other and you felt like you were only just scraping through. I think that out-of-the-comfort-zone stuff is when you learn the fastest."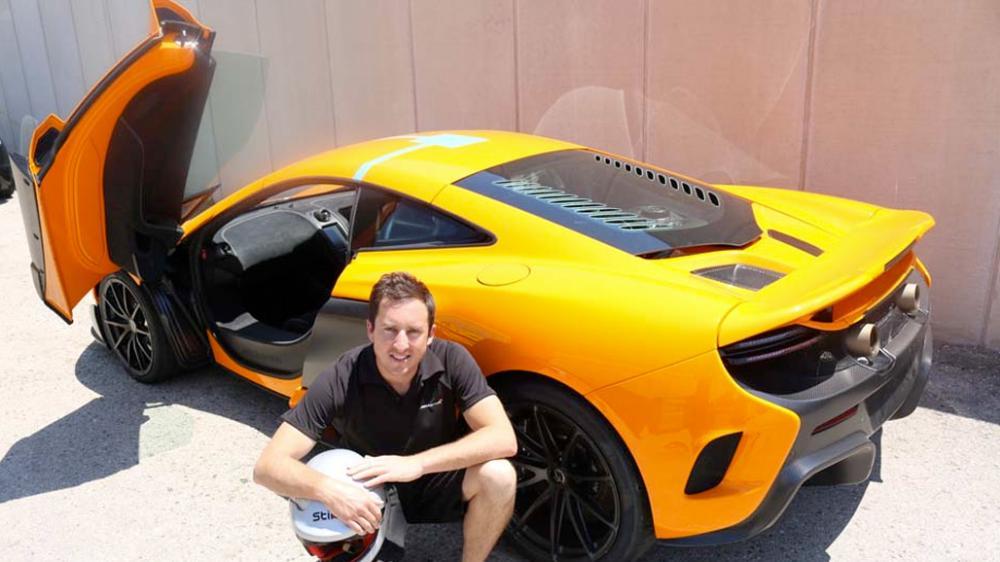 Paul's work at McLaren is certainly demanding: long days and tight deadlines are standard, but that could be said of any workplace. The difference comes from working for a premium maker with high standards and a high profile. The cars Paul works on are expected to be technical and luxury masterpieces, so there's no room for 'good enough'.

"No 'daisies and unicorns' about it: we work long hours and whatever pressure we have on us, we put even more on ourselves.
"Getting up and running in a high pressure, high expectations environment on the other side of the world was like climbing a mountain, being completely outside my comfort zone and not knowing if I would have what it takes. I did a two-month stint in London when I took the job and just when I felt I was starting to get the hang of it there I moved to Spain, which was probably tougher again. It took more than a year to realise that I'm riding the bike now, not falling off it. It will take some more time to be able to say I'm really good at it."

Batten's day to day work mirrors his career in a way, with incremental progress towards big outcomes. His primary expertise is vehicle dynamics – how a car handles based on the forces applied to it – and that involves lots of work on suspension systems. He says despite the rise of computerised simulation in car development, suspension tuning is still a very human art.

"The work's continuous and iterative: build it, measure it, test drive it (which I love). You keep following that process until it all comes together.

"It's such a creative process; I find it mind-blowing. A lot of engineering can be quite rigidly mathematical: yes and no; black and white. Particularly with damper tuning in suspension systems, they're almost a black box, and there's this notion that the people tuning them are wizards."

He'll continue to work his magic in Spain for now. What the future will bring is uncertain, but it's a fair bet that Batten will continue to make that nine-year-old boy in Picton Library very proud.
---
UOW FSAE
The passion for building fast cars is one shared by many amongst UOW's student body. The University of Wollongong supports this passion through UOW FSAE, a program in which a team of talented students compete internationally to build an open wheel, formula-style race car in the Formula SAE (Society of Automotive Engineers) competition. The project creates a great opportunity for students to develop skills in design thinking, problem solving and communicating in a team environment. The University has placed within the top contending national and international teams for the last 12 years with multiple victories at both the Australasian and American competitions.
Follow UOW FSAE on Facebook.
---
Paul Batten
Bachelor of Engineering (Mechanical), UOW 2005