As a high school student, Kumi Taguchi developed a love for documentaries and stories from around the world: a passion that's evident in her work as a senior anchor on ABC News 24.
---
"I always loved the news and trying to figure out the whys of the world. Journalism seemed to be the place that fed that curiosity," says Kumi.
Taguchi's path to journalism is a little unusual. An accomplished violinist — playing since she was just five years of age — she was encouraged by her music teacher to enrol in the Bachelor of Creative Arts (BCA) program at UOW. While her music skills offered a pathway to university, the multidisciplinary approach of the BCA also appealed to her.
"As soon as I stepped onto the campus, I felt at home. I saw so many faces from different countries. I loved the casual feel of the place. I loved the grassy lawns and the peacefulness. It felt like I could be myself there and find my own way."
People are often surprised to discover that Taguchi didn't study journalism. "For me, the way I forged my career path was ideal: I was able to fill every part of my curiosity and think about ideas from so many different perspectives," she says.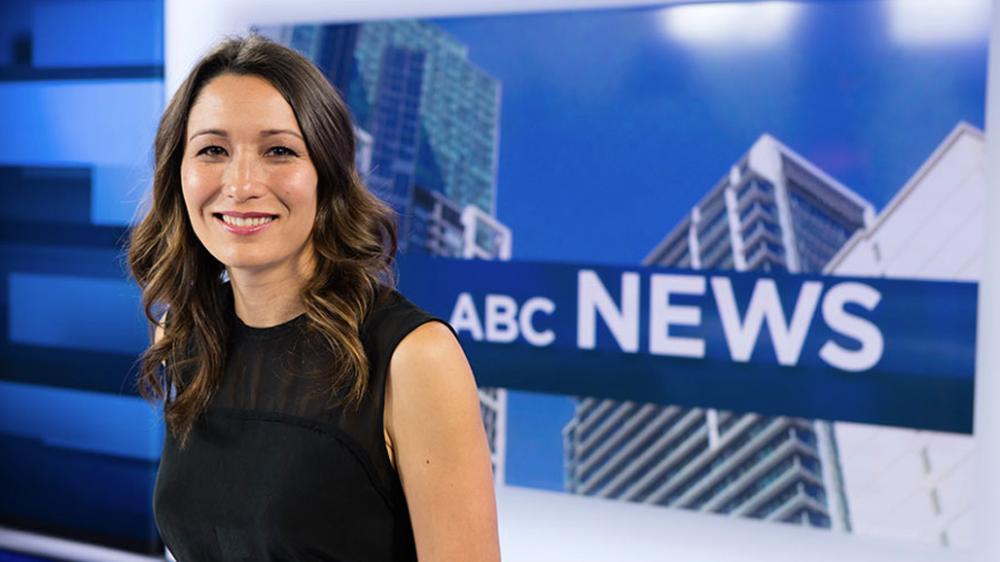 "Journalism is, and increasingly so, a very technical profession. You need to learn a multitude of skills to make it through a day: from desktop editing to news software and super-fast social media skills."
This flexibility, along with her engaging, empathetic style and natural sense of adventure, has served Taguchi well: her journey has taken her from an entry-level role with the ABC — answering phones and picking up dry cleaning — to a rich career as a journalist and news presenter across the ABC and SBS.
She also spent some time living and working in Hong Kong, which she regards as a great time in her life. "I was meant to stay for two years but it ended up being six: it became 'home'," she explains. "My main job was reporting and anchoring for a local TV station, in their English News department. It meant local salaries (low), local rent, local everything. It also meant I had to see Hong Kong through the eyes of those who lived there: understand the politics of the place, education, how young people were feeling, what the social problems were."
Taguchi has seen a lot of change since starting out in the industry, when there were just five TV channels and no internet. "My role is incredibly multifaceted — because of the diverse audience. We have people who watch 24-hour news, appointment TV, or read content online. I anchor, report and write. I produce content for multiple platforms: radio, TV and online."
She loves presenting from the studio and reporting on-site from the heart of a breaking news story in equal measure. "As much as they seem to be polar opposites, they're actually quite similar," she says. "You need to be honest with your audience, give them as much clear information as you can, treat them and your guests with respect, and let some of your own personality shine through."
00:02
I'm Kumi Taguchi and I'm a
00:07
senior anchor at ABC News 24 journalism
00:10
was always one of those things that was
00:13
always to stare for me I read a lot of
00:14
the kids my first job in media was foot
00:17
in the door the lowest paid job at the
00:19
ADC ordering cakes picking up dry
00:22
cleaning for the then 730 report and
00:25
then from there my journey has been from
00:27
there to radio six years in Hong Kong
00:31
anchoring TV news there and
00:33
documentaries and finally ending up at
00:36
the ABC we're currently I anchor around
00:38
three or four hours of live rolling news
00:40
every day and I also dabble a little bit
00:43
in hosting radio as well and hosting
00:45
other shows around the network when I
00:49
wake up in the morning I check what's
00:50
happened in the news overnight and I
00:51
have sort of a sense of what the news of
00:53
the day will be and I turn up to work at
00:55
about nine-thirty ten o'clock in the
00:57
morning read through all the papers and
00:59
then at ten-thirty we have an editorial
01:01
meeting with my team which is about four
01:03
of us and we talk through what the main
01:06
stories of the day are what live events
01:09
might be happening is the Prime Minister
01:10
stepping in the afternoon is the
01:12
agriculture minister stepping up and
01:13
then by the time I come out of makeup
01:15
I've got about two hours maximum before
01:18
we go on in and that's when I really
01:20
bent down and nail down what I really
01:23
want to ask our talent how we want the
01:26
show to feel what should be leading our
01:28
bulletin fundamentally I think we're
01:32
here to ask why figure out why and try
01:37
in some way to flesh out a story for our
01:40
audience so that they feel connected to
01:43
that story well the 20 years I've been
01:44
in the industry I've had to learn so
01:46
many more Skills usually technical
01:49
skills around editing how we gather the
01:52
news but the other major shift I think
01:54
that's going on now is how people
01:55
receive the news when do they read the
01:58
news why in what environment on what
02:01
device so part of the challenge I think
02:04
the journalist is one to be constantly
02:07
ready to upskill and constantly ready to
02:10
be aware of the technology
02:12
it's around you and what your audience
02:13
is wanting the people I keep in contact
02:16
with the most of my life outside of work
02:19
are my university friends it's so easy
02:22
to kind of think that you need to follow
02:24
a path which you know already exists if
02:27
I do this degree then I can get to here
02:29
and then this will happen but i would
02:30
say eighty percent chance that the world
02:33
that we're going to be living in in 20
02:34
years time isn't that way the skills
02:36
that are going to be needed in the next
02:38
10 20 years are very human skills about
02:40
being connected and socially aware
02:43
empathetic now that can be applied to
02:46
any profession and on some level I think
02:49
as long as you study something and
02:51
choose somewhere which makes you feel
02:53
like you can be a absolute individual
02:56
that however you think about the world
02:57
is great whatever you want to do with
03:00
that thought here it is that would be
03:03
really my only advice and if there's
03:05
ever that little kind of funny feeling
03:07
in your stomach where you're going this
03:08
doesn't feel like me follow it because
03:10
you've only got one life to live see may
03:12
as well live it authentically hope I do
03:15
think for anyone out there who literally
03:18
only has a notebook and a pen and you
03:20
don't have all the devices and you don't
03:22
have all the counties it doesn't matter
03:23
because there's always some story out
Taguchi has had some very moving and memorable experiences on the road: reporting from the Blue Mountains bushfires in 2013 alongside a community struggling with the magnitude of the disaster; the physical and emotional challenge of covering the Sydney to Hobart Yacht Race in 2014 from the open sea; and, last year, spending two weeks inside a rehabilitation facility for war veterans suffering from Post-Traumatic Stress Disorder (PTSD), after over a year of trying to gain access.
"It was a tough two weeks. I was there on my own and was hearing long, detailed accounts of people's experiences of life after war," she recalls. "I was determined to challenge my own perceived areas of knowledge and see whether anything new came out of my time there. So, I went in with a blank notebook and a pen and simply wrote and observed: like reporters of old."
Her interest in the issues faced by returned soldiers has since fed into another of Taguchi's passions: running and adventure. The 39-year old, who completed the gruelling Australian Outback Marathon in 2013, is now turning her attention to expanding the Soldier On 5km, a weekly fun run as part of a wider initiative to help shift the dialogue around veterans and blend the military and civilian worlds.
It's indicative of a life spent giving a voice to the concerns and issues faced by others. "At the end of the day, journalism is a voice. It's about how you see the world and the questions you ask."
"UOW let me ask so many questions and express them in so many different ways. That flexibility has been incredibly important to my career because it never follows a linear path, and having the ability to re-shape and re-direct that curiosity has been vital to sticking in the game long-term."
---
KUMI TAGUCHI
Bachelor of Creative Arts (Visual Arts & Design), UOW (1996)