Matt Bernson studied for a year at UOW in 2000 while on exchange. He spoke with Keeli Cambourne about his muse, Toyota LandCruisers and Courteney Cox.
---
Matt is a footwear designer based in Tribeca in New York City. His shoes—influenced by art, culture and global style—have been used in runway shows for Zac Posen, Tommy Hilfiger and Edun to name a few. He has a large celebrity following, including Gisele Bündchen, Sarah Jessica Parker and Naomi Watts.
Was fashion an industry in which you have always had an interest? If not, how did you get into the business?
Fashion was something I was always interested in but I never pursued it as a course of study or in any formal manner. I have always enjoyed good taste and beautiful expression of ideas in a harmonious way, and I am a bit particular when it comes to my own footwear. I was travelling in India, found a sandal as a gift, and it sparked an idea to try and design my own.
Starting a fashion business in New York is a tough call. How did it begin? What was the inspiration or the 'ah ha' moment that put you on this path?
The 'ah ha' moment came when I gave my then girlfriend, now wife, the gift of the sandal I bought for her in India. Her excitement and reaction made me realise the powerful connection between women and shoes. I wanted 
to recreate that in a bigger way.
You put on your LinkedIn profile you graduated from UOW in surfing, tourism and philosophy. What did you take away from the University of Wollongong that has inspired you or given you an edge in the fashion industry?
It sounds cliché, but I really found myself while at Wollongong. I knew that I was on the wrong path going into a career in finance. I wanted to do something creative and infused with adventure. At that time I didn't know exactly what, but I knew what I didn't want to do. Through travelling, surfing and studying outside of my major I came closer to knowing. I look back at my time at UOW with such fondness and it reminds me to stay the course because it feels like what I set out to do.
Did your time at UOW and in Wollongong have an impact on what you are doing now?
Here is the simplest way I can answer this question. I bought a 1974 baby blue Toyota LandCruiser with three other guys I met the first week in Wollongong. A photo of that car and those three friends is framed and hangs above my son's diaper changing table.
Getting the support or endorsement from celebrity clientele is a must for any successful business, especially in fashion. Who was your first big name client that helped put your brand on the front foot?
The first celebrity to wear my shoes was Courteney Cox, she wore them on New Year's Eve in Cabo San Lucas holding a white rose—she was newly married to David Arquette. It was a huge photo and was in every weekly magazine. They noted her shoes and her happy smile. That shoe was the Love Sandal in black and we still sell it to this day.
How much does having that celebrity connection help in fashion?
For me it is one component of what I do. The number one most important thing is having an amazing quality product that people love. The celebrity part helps get the word out, no doubt. But it can't just be anyone, for me anyway. They have to have style, brains and be talented at what they do. They have to have a spirit that aligns with our brand mission.
Did you actively seek it or was 
it serendipity?
In the beginning it was all just chance. Celebrities bought them and wore them and got photographed. Then we started get-ting contacted by stylists and editors dressing celebrities. From that we started relationships directly with these people who are now regular clients and come in to our store or request things for events, travel, etc.
As a business major, you must have also learned the power of branding and how to keep the momentum in an industry like fashion going forward. What was the most important thing you learned through your business studies that has helped you?
I wish I had studied branding and practical elements of business. I studied business finance which is the study of managing other people's money, right? I learned the importance of sound accounting, planning and managing of a business. Boring but useful, I know. I learned the brand building and importance of vision through doing and trying to evolve as a designer and brand.
What was the biggest challenge for you in launching your business in the US and then globally?
The biggest challenge was lack of starting capital and trying to make everything work on a shoe-string 
budget and make it happen organically. Looking back it was my biggest asset because it made me and my team have to really out-think bigger, more experienced organisations.
How have you seen the business environment change over time and how do you ensure the brand is seen by those who can help it grow?
Things have changed so dramatically and quickly that we are evolving into as much a tech company as we are footwear design and manufacturing. It is so fast and complicated and much more competitive than when I first started.
There has been a bit of debate lately about what constitutes a muse or style icon. Do you have one?
Our muse and style icons change with each season. My true muse is my wife because she has kept me from giving up countless times, and that is actually the most important part of creativity: moving forward and not giving up when things feel hopeless. We look at who is wearing our designs and try to think where they might go in the future to inform some of our inspiration.
Who do you have in mind when you are designing?
Right now, Naomi Watts. She came in to our store and her effortless style and vibe was radiating and feels right to me.
You use a lot of tribal/gladiator sort of designs in your shoes. Why is this?
My youthful inner rebellion was against the feeling of the constraint of modern society. I thought that the romantic notion of tribal living and cultures was very appealing. There is an authenticity of tribal culture and artefact that is undeniable. We borrow from that to add code and meaning to modern design. Sometimes it isn't conscious.
You also use materials like memory foam in the designs. Is comfort just as important in shoe design today as high fashion? And why?
We call ourselves a 'secret comfort brand', because the word 'comfort' has been linked so closely with 'ugly' in fashion and especially footwear. When I first started, my mum and wife were testing the shoes. I gave them blisters because the shoes were stiff and hard. I realised that making cool shoes that were technically comfortable would make women want to keep coming back for more.
Not many new graduates would think they can go from a general business degree to high-end fashion. What steps did you take in between?
I found myself doing something that I didn't have a passion for: I was working in construction to pay the bills. I just made the leap, dug myself into a deep financial hole and then set a course to build a sound business and design studio. I don't recommend it—it was painful in many ways. I always want other people to have an easier more joyful start.
What advice would you give new graduates coming into the workforce looking for that big break?
Find your passion, what you love, and you will not only succeed but be well rewarded for it if you truly put in the time and hard work that it takes. Also, travel a lot, because you learn so much and meet so many people that can alter your thinking, in a good way.
Has the focus of your business changed in the past few years? Is the US still the market to break or is that changing?
The core philosophy is still the same: make cool, casual, high quality shoes that are comfortable. The way we do business and where we are headed is constantly improving and changing. We are focused heavily on the US. When it comes to inter-national, it is important, but we let them find us, it seems to work better that way.
Anything else you would like 
to mention?
Yes, one of my favourite surf spots ever is Mystics, south of Wollongong. The wave has side bounce off the rock wall—it's wild. The view when you pull up is truly mystical, hence the spot's name. And, if you are ever in New York and stop in my store, our studio is below and I am always excited to say hi. Just ask for me!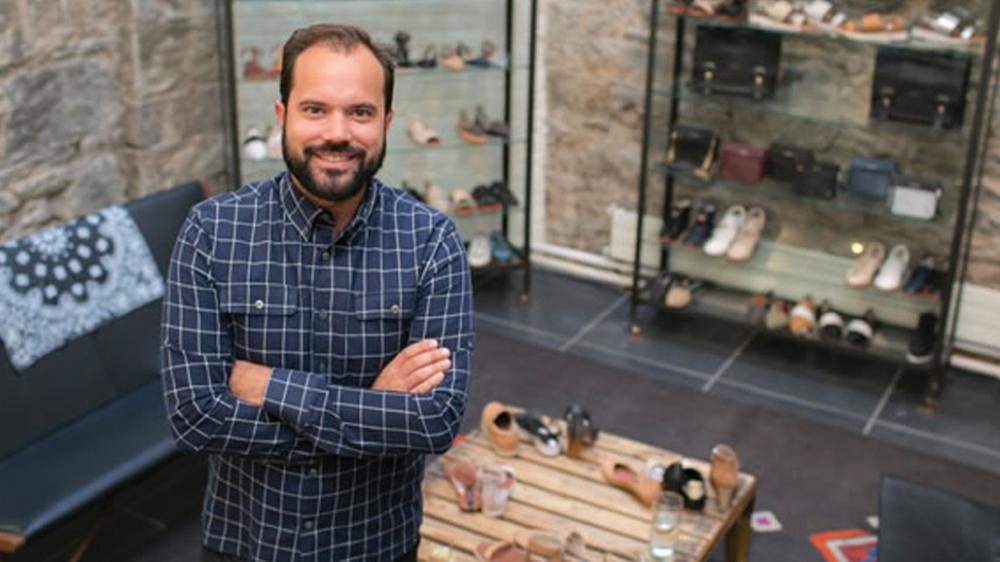 ---
MATT BERNSON
Studied at UOW for a year in 2000 on exchange from the US