With a Bachelor of Education from the University of Wollongong in his hand, Paul Harris headed to London in 2000 seeking experience and excitement, but things weren't as easy as he expected.
---
A company set up by UOW education alumni is finding work for the next generation of teachers in the United Kingdom.
Australian teachers were in demand, but the way in which they were recruited and placed into the British education system left Harris feeling a little under-whelmed. And he wasn't alone. After a chance meeting with fellow UOW graduate Todd Richardson, the two realised there was a better way of matching Australian teachers with British schools.
With just GBP 4,000, borrowed from Harris' father, but an over-abundance of passion, in 2001 Harris and Richardson set up Vibe, a teacher recruitment agency in the heart of London which has in the past 14 years become one of the biggest such agencies in this global capital.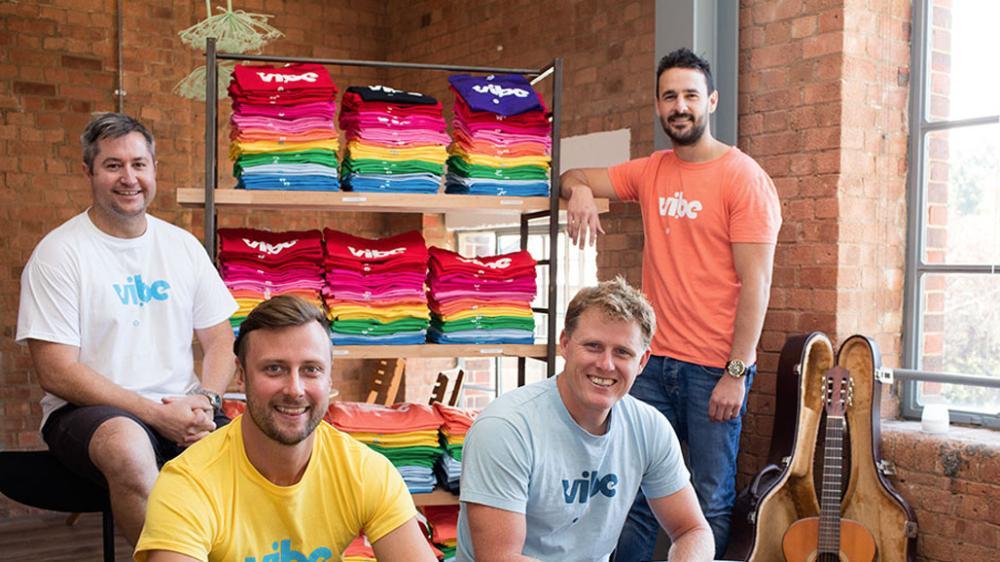 Left to right: Craig Jones, Dane Attenborough, Paul Harris and Luke Higgins
"We [myself and Todd] thought we weren't getting a good deal from the agencies set up to recruit overseas teachers at that time and felt we could provide something better," Harris says. "We had no idea about business or starting an agency. We also had no money but our passion was to provide something better for our friends and the schools as well."
From those early days when there was just the two of them working not just on the business but also in schools, Vibe has now grown to having a staff of 55, working with 350 schools, and 1300 active teaching candidates on its books.
Already Vibe has placed around 18,000 teachers into classrooms around Britain and continues to grow year on year.
"I could never have imagined it would be this big," Harris says. "I still remember the days when there were just two of us going out to schools, and now we have about 800 candidates going out each day.
"Those first few years we made little money, and were working 16 hours a day, seven days a week. That was difficult but, even after that, there have always been barriers — legislative changes, the recession, the worry of not having enough candidates or clients," he said.
It was his unwavering commitment to teaching and quality education, as well as his vision which helped Vibe achieve the success it has to date. This is evidenced through the workspace that Vibe occupies in London, the gym memberships, the healthy breakfasts, fitness sessions and team-building sessions and so on that are all designed to engage and inspire staff and keep improving the business.
"I firmly believe that if you've got a happy work environment then you're going to have a more productive environment and will attain more success", he says.
Harris has made a point of only taking on in his ever-growing staff, teaching graduates who are as passionate about inspiring kids to learn and schools to innovate, as he is himself. He says this is one of the main points of difference between Vibe and other teacher recruitment agencies in London.
Although Richardson has since left the company, Harris is still Managing Director of Vibe and has actively recruited staff in the Vibe office from the rich supply of UOW teaching graduates that find their way to London.
Luke Higgins is one of them. He arrived in London in 2007, having graduated with a Bachelor of Primary Teaching in 2006. He cut his teeth as a new teacher at his own former primary school at Oak Flats, near Wollongong, before deciding to look for experience and adventure overseas. Within months of arriving he was working in the Vibe office and after seven years is now firmly entrenched on the company board and in his role as its Marketing Director.
"I have a teaching background but now I'm heading up the marketing here at Vibe and the reason I'm confident performing this role is down to the knowledge and skills I attained whilst studying at UOW".
As teachers placing teachers, we strive to keep our finger on the pulse of education
"The why of Vibe is to inspire a better education! We look for experience in our candidates but the key is their character and having the right attitude. As teachers placing teachers, we strive to keep our finger on the pulse of education.
"We provide here an environment where our candidates, clients and staff feel supported, a lot like we did as students at UOW. By creating a positive environment, it shows up in people's work."
Dane Attenborough, Vibe's Consultant Manager, who has been with the company for five years, is also a UOW alumnus, graduating with a Bachelor of Education in Health and Physical Education in 2005.
His role is to meet with the eager, new Australian teachers looking to build a career in London, find them the right job and support them throughout their journey.
"They're always full of energy and excited about getting involved in London life, and at Vibe we like to help them to create a community among themselves," he says.
"A lot of our teachers come by themselves but once here they meet a lot of like-minded people and UOW is a breeding ground for quality teachers. They ooze positivity, they are resilient and can handle anything London schools throw at them."
Craig Jones, an accomplished sportsman, who left UOW with a Bachelor of Education in Physical Education in 2000 is the Director, and says that although he had no business background coming into the role, the philosophy of Vibe in building relationships is what he — and his colleagues — learned as one of the main lessons during their time studying at UOW.
"Our teaching backgrounds taught us to build relationships — with the kids and the schools and that's what we do here at Vibe.
"Paul had just started Vibe when I arrived in London and I was able to add some value to the company for him. It was a slow progression. Early on we were teaching everyday... so it's been great to share the journey with other people.
"A lot of ideas start off small and go through a process of refinement before being implemented. Vibe has had a lot of refinement over the years and we continue to strive for improvement every day. Our unique selling point is our teaching background. Our ability to understand the challenges faced by teachers and schools helps us to match them to each other effectively which builds rapport and trust.
Although those first few years creating Vibe were tough, Harris says it was UOW's reputation for innovation that were the basis for his — and Vibe's — success, and he's adamant that overseas adventure and experience are imperative for new graduates in an increasingly global world.
"I always felt at university that the academic learning we did was the main thing but there was lots of other learning going on. Social learning was just as important," he says.
"I knew the relationships I built there would play some part in what I was going to do in the future. Just because I studied education didn't mean I had to go into education. The skills I gained in my degree were transferable and I felt capable of taking any path and confident in my own abilities.
"I absolutely encourage people to have an adventure like this — to come to the UK or another country. It offers you not just an opportunity to travel and see the world but the bigger thing you get out of it is putting yourself outside your comfort zone. Through that you become stronger, more determined, committed, resilient and culturally aware. And for teachers, that can only be a great thing for kids in the classroom."
---
PAUL HARRIS
Bachelor of Education (Physical & Health Education), UOW (1999)
LUKE HIGGINS
Bachelor of Teaching (Primary Education), UOW (2006)
DANE ATTENBOROUGH
Bachelor of Education (Physical & Health Education), UOW (2005)
CRAIG JONES
Bachelor of Education (Physical & Health Education), UOW (2000)