Communicating the vision of multinational corporations is a speciality of Luke Fredberg. He discusses with UOW Outlook Magazine his current focus – CBS Corporation and the Golden Age of Television.
---
As Vice-President of International Communications for CBS Corporation, Fredberg is charged with communicating the global strategy for the company, and is a key player in their international external communications team. It's a varied and energising role, and one he clearly relishes.
"For me, multinational companies are all about the diversity," he explains. "Every day I'm working with new and different people: in the morning I could be on the phone to Asia; in the afternoon emailing back and forth with Europe; and in the evening, on a call with LA discussing strategy, or a new project or show we're about to launch."
CBS Corporation has a solid reputation as an international leader in the creation and distribution of high quality content to audiences around the world, with operations in virtually every field of media and entertainment.
Though headquartered in the United States, CBS's reach and influence is undeniably global. Working from his base in London, Fredberg helps provide a link between their businesses and audiences across the world. When he joined the company as Director of International Communications in 2009, CBS was quick to recognise his talent and potential, promoting him to his current senior executive role within two years.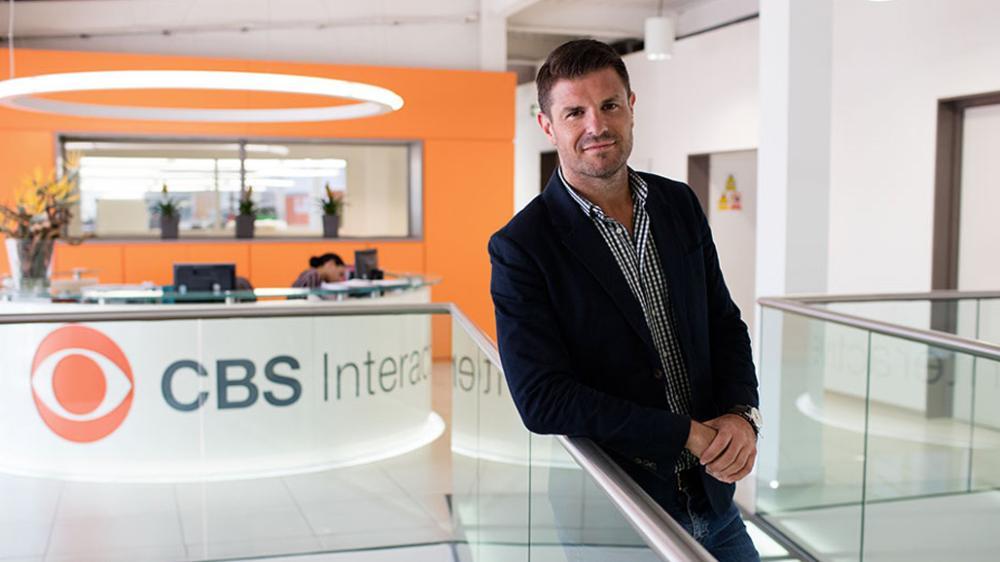 Growing up in Adelaide, the UOW Master of Journalism graduate spent some time working with fashion, youth and lifestyle brands for integrated communications agency Spin Communications before leaving Australia for the United Kingdom, landing the role that shifted gears in his career: Head of Consumer and Sponsorship Public Relations for Visa in Europe. The role encompassed public relations activation of the company's large-scale global sponsorships and marketing campaigns.
"Visa has some of the most significant sponsorships in the world, so it meant that I got the chance to work on things like the Olympic Games and the Rugby World Cup," Fredberg says. "The frequent travel across Europe really gave me a grounding in the media landscape of those individual countries, and a solid basis for future international PR and communications roles."
Fredberg says the role helped him shape the calm professionalism for which he's known, citing a memorable press conference in Istanbul, held soon after he first arrived in London. "There were about a hundred journalists in the press conference, and they were smoking and talking throughout the whole thing, and it was absolute chaos," he recalls. "From that moment onwards, I thought 'this is what international communications is like; you need to adapt to the situation that you're in, you need to understand different cultures, different people, different attitudes towards the press, and just work from there'. It's really about keeping that level of professionalism, always."
From there, he spent a year heading up communications across Europe and India for TripAdvisor, the world's largest travel site, before moving to CBS, at what he describes as a fascinating time in the media and entertainment industry's history. "We talk a lot about it being the golden age of the small screen. Television is increasingly being seen as a medium that has a lot of space for creativity, so now it's attracting all the best directors and actors. I'm really fortunate to be a part of it."
Travel is a key driver — personally and professionally — for Fredberg, who as a child dreamed of becoming an international pilot. Since leaving Australian shores, he has travelled extensively for both work and pleasure, from contrasting places such as Syria and Myanmar, to the glitz and glamour of Cannes and Monte Carlo. He speaks four languages, and has spent significant amounts of time in places like the United States, Istanbul, Italy, Greece and India, along with a two-year stint in Paris. But London has been his base over the last 13 years, and he still loves its buzz.
00:03
My name's Luke Fredberg, I am the vice president of international communications for CBS
00:09
Corporation and I have been working here for the last 6 years. I got travel bug when I was young that
00:15
for me is what 100% inspires me to work in this market to work in this industry. I love the
00:22
buzz and the thrill of being a part of a global city like London. I've had the good
00:27
fortune to be able to live and work in so many different places in the world
00:30
I've had long stints in the US,
00:33
long stints in India, Istanbul, I lived for almost two years in Paris and sort of ended up in London for most of the time as well
00:41
as a base and it's definitely been something that has taught me about diversity
00:46
it's taught me about different cultures and that has helped me immensely in my role now.
00:52
Professionally I don't think I could be in a better city than here for an international
00:57
communications perspective. London is really where it's at and where all the action is happening.
01:02
For me multinational companies are all about the diversity and being able to adapt and change and work within a diverse environment is so important.
01:10
So that's where I gained and learnt the most from working in a multinational company. We talk a lot about its the golden
01:17
age of the small screen so it's really exciting to be a part of this industry
01:23
at this particular time. However you consume it whether it be on
01:26
your laptop or tablet or mobile phone we're in a time when content is king and I'm
01:33
working for a company that produces a huge amount of very good, world-class, high quality content that kind of drives me and
01:41
motivates me and it's so nice that this is now the time for it and this is the time that we've got the best in the business working with us
01:48
which we're really fortunate to be part of. We are just excited to be part of this space at the moment. Currently working on the most watched
01:57
show in the world, NCIS, it's amazing how loved and how many people watch that show across so many different countries.
02:04
I think my most significant role I've had before this role was with VISA and I was the head of sponsorship and consumer PR.
02:13
As you know VISA has some of the most significant sponsorship's in the world. So it meant I got the chance to work on things like
02:20
the Olympic Games and the Rugby World Cup. So I think my path was kind of built from there so to speak
02:28
You know I was really fortunate to be able to work on so many different amazing
02:31
sponsorships that VISA had. Got to travel all across Europe frequently for many many years and which
02:38
really gave me that grounding about how the media landscape is in each of the individual countries I was working in.
02:43
I think that gave me that whole solid ground to then move on from there and get more international
02:50
PR communications roles. For me professionally one of the most important thing I've worked on was
02:55
when I was with VISA and I worked in Turkey on a education program for young Kurdish children
03:02
out by the Turkey/Iraq border. It meant that I got to go out and spend a lot of time out there and it's something
03:08
I'm quite proud of and it was very emotionally-charged but really felt
03:14
like you're making a difference. So for me that was one of the highlights of projects that I've worked on.
03:20
I did a Masters at the University of Wollongong so I'm came there a bit older and went to another institution earlier on.
03:28
The institution I went to for my undergrad was a little bit more conservative a little bit more
03:34
traditional and for me going somewhere like University of Wollongong was a complete breath of fresh air
03:39
I think what stood out to me when I got there was how friendly and relaxed and how
03:45
approachable everyone was and that's students, that's lecturers, the support staff.
03:52
I'll never forget my first day on campus and I saw two guys wearing a wetsuit and
04:02
had a surfbaord underneath their arms and they are going off, ready to
04:08
go surfing after a lecture or something like that and I just love, I
04:12
thought OK this great, this is what being at a University like this is about.
04:16
It's not about being some stitched up conservative place. It's really about being somewhere that's just approachable and friendly.
04:24
In five years hopefully I'll still be doing what I'm doing now, working, learning and travelling.
"London is certainly the most international of cities that I've ever lived in, and is arguably the most international city in the world," he says. "Professionally, I don't think I could be in a better city than here. From an international communications perspective, London is really where all the action is happening."
Travelling the world through his work has also opened up opportunities for Fredberg to give something back. "When I was with Visa I worked in Turkey on an education program for young Kurdish children, out by the Turkey-Iraq border," he recalls. "I got to spend a lot of time out there. It was something I'm quite proud of — it really felt like you were making a difference."
Education is another of Fredberg's passions. Alongside his work for CBS he has begun to mentor students at the University of the Arts London, giving the next generation of leaders the benefit of his incredible experience and insight as they shape their own careers in an increasingly globalised world.
"When it comes to business nowadays, being able to adapt and change and work within a diverse environment is so important," he says. So what does the future hold for Fredberg? Wherever it leads, you can be sure it will involve travel, new destinations and creativity in abundance.