First Annual Light Microscopy Image Competition - 2021
MicroWorld in Motion (3D image and video) - 2021
3D co-culture of lymph node-derived fibroblasts
Supervisor: Professor Marie Ranson
Description: Three-dimensional co-culture of lymph node-derived fibroblasts and the patient-derived skin cancer cell line, UW-CSCC2. The cells were stained with the nuclear stain Reddot2 (blue), ActinRed (yellow). The epithelial marker cytokeratin (magenta) allows to distinguish the cell populations. Images were taken on a Leica DMI8 using a 20x objective and post-processed using Leica's Thunder computational clearing. The spheroid diameter is between 130- 150 μm.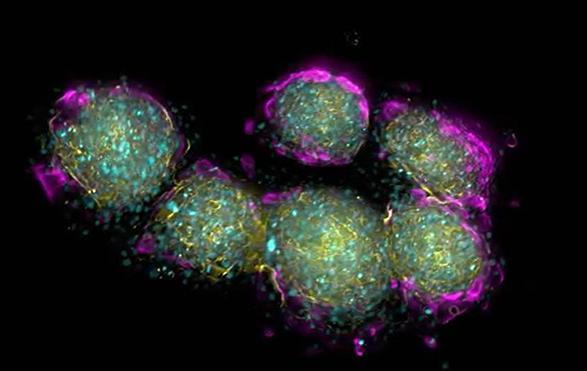 Membrane-less organelles and GFP-G3BP1 activation
Supervisor: Professor Justin Yerbury
Description: Stress granules are membrane-less organelles that form a dense protein-RNA interaction network in response to various cellular stresses. The central node in this network is G3BP1. Stress granule assembly can be modelled in cells expressing constructs in which the G3BP1 dimerisation domain is replaced with the optogenetic homooligomerisation domain, CRY2 (CRY2-G3BP1). The ability to modulate factors such as light intensity and exposure enables precise control of "opto-granule" formation and avoids undesirable toxicity associated with cellular stresses. Shown is a U2-OS cell line stably expressing GFP-tagged G3BP1, transfected to express mCherry-tagged CRY2-G3BP1. Opto-granule assembly was stimulated by exposure to 450 nm light.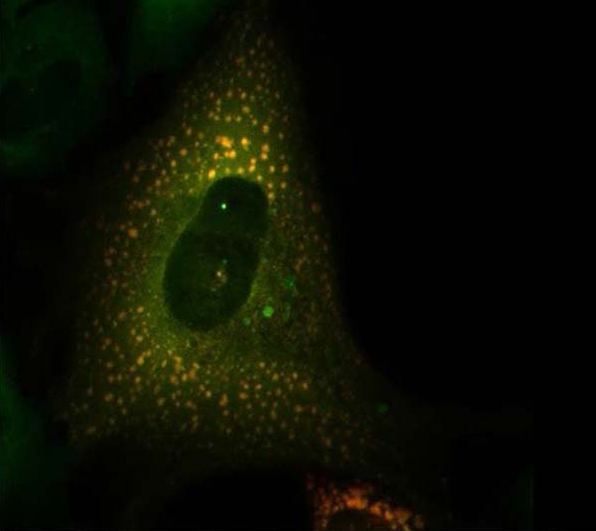 Movie of Nuclear TDP-43 droplets merging