A university experience can be transformative, but financial stresses can take away from everything university life has to offer.
---
For Caitlyn Moore, receiving two scholarships allowed her to get the most out of her nursing degree – without worrying about money.
When Caitlyn Moore visited the University of Wollongong (UOW) campus in her final year of high school, she knew it was where she wanted to study. She took a coach bus up from her hometown of Corowa NSW, a small town of around five thousand people near the Victorian border.
"I feel in love with the beautiful campus and surrounding area," said Caitlyn.
Caitlyn has four younger siblings so needed to support herself financially to study at UOW. When she graduated high school, Caitlyn spent six months working part-time at McDonalds and as a waitress at her local RSL to save up enough money to move.
Caitlyn started university by studying Medical and Radiation Physics, but soon realised that this degree wasn't the right fit.
"I was good at science subjects in high school so I thought physics could be for me. I never even considered nursing at the time. I didn't know anyone growing up who was a nurse, but then I started meeting students on campus who were in nursing. I've always loved the human body and wanted to work with people face-to-face. After six months, I decided to switch degrees and enrol in a Bachelor of Nursing," explained Caitlyn.
Caitlyn was living in student accommodation at UOW and making new friends from all over Australia and the world – but she was struggling to make ends meet financially.
Just before starting her second year in Nursing, Caitlyn received two scholarships, the Winifred Smith Scholarship for Excellence in Nursing and the Nursing Clinical Placement Scholarship.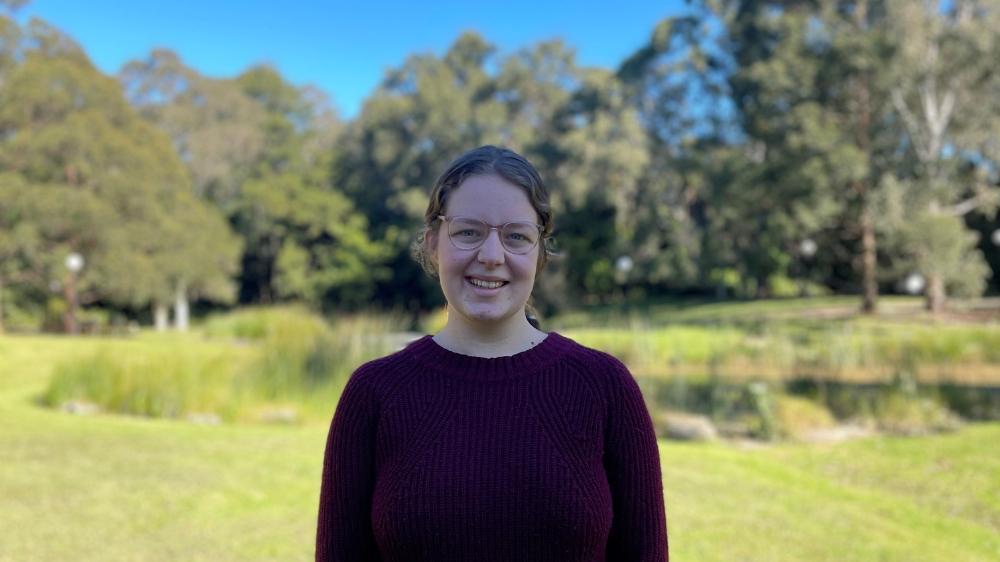 Image: Caitlyn Moore
She said the scholarships allowed her to focus on her studies, without financial burden or stress.
"I no longer had to live paycheck to paycheck. It was a huge weight off my shoulders and a massive sigh of relief knowing that I could focus entirely on my university experience, and not worry about having to pick up more shifts at work."
The scholarships meant Caitlyn could experience nursing placements in Wollongong and beyond.
"I had placements in Ulladulla, Wollongong, Liverpool, and even Cambodia.
"When thinking about clinical placements, a lot of nursing students need to consider what's in their budget, so they often aim for placements that are the closest to home. But the Nursing Clinical Placement Scholarship meant I didn't have to restrict my preferences to a local hospital, giving me such broad experiences.
"The Winifred Smith Scholarship really helped me in terms of study. I put the funds towards study resources like textbooks and a new laptop. It allowed me to have the technology and equipment needed for my degree."
Caitlyn had her graduation ceremony in May 2022 with her entire family watching in the audience as she walked across the state to receive her diploma.
"It was an amazing experience. The Vice-Chancellor donated to my placement scholarship and she's a nurse by trade. She started as a nurse and trained at Wollongong Hospital so when she was the one that was on the stage, I tipped my hat to her. That was not only a proud moment for me but an exciting moment because she started as a nurse and look how far she's gone – it just shows you can go in all sorts of directions.
"There was primarily nursing graduates in my ceremony and that was exciting in itself knowing that we were all nurses sitting there – registered nurses and above – and that was a really great moment both being with my peers and being around other nurses."
Caitlyn is now working at Wollongong Hospital's intensive care unit (ICU).
"It's nice and close to home and I had placement there, so it was great to be familiar with the hospital and staff. It's also a speciality in itself being in the ICU. It love it."
Caitlyn said she is excited about the flexibility in nursing. She's still in touch with academics from the School of Nursing at UOW and sees research, becoming a tutor, and completing her Honours degree in her future. On top of her full-time work, she's also tutoring a nursing student through the Indigenous tailored academic program at UOW.
"I've been tutoring Aboriginal and Torres Strait Islander students through UOW's Woolyungah Indigenous Centre since July 2021 and have kept doing it on top of my full-time work. It keeps me connected to UOW and I love helping students."
Caitlyn said the scholarships have been invaluable.
"I've grown up so much since I've moved to Wollongong. I've made so many friends and had so many incredible experiences.
"I am in this position because those scholarships afforded me the ability to focus on my university experience, academics, and clinical placements. Without them, I would have had a lot of financial pressure and stress. I was able to set my mind at ease, allow my passion to flourish, and really focus on my future being a nurse."
Caitlyn said that those making donations towards student scholarships may not always see the impact, but she believes it's changing lives.
"It's a critical moment going through university and often one of the hardest times financially. Donations are supporting the future workforce. They're making a long-lasting impact and a world of difference in students' lives."