In February 2023, three BAL staff members were awarded Erasmus+ grants to travel to the UOW Partner Institution, the University of Almeria in Spain. Erasmus+ is a European Union initiative that promotes mobility and collaboration opportunities within higher education. Staff members from UOW were offered the fantastic opportunity to travel to sunny Spain to connect with staff at UAL as well as their partner institutions.
---
Tina Prodromou, a Lecturer in Finance, and Erin Snape, the Senior Manager of International Strategy and Engagement, traveled to southern Spain in May to join over 50 staff members from 43 different institutions around the world at UAL's 'International Week.' This event provided opportunities for sharing best practices, co-teaching, cross-cultural dialogue, and fostering new relationships. They participated in workshops and panel discussions, and met with staff and students who provided fresh insights, new perspectives, and collaborations that are valuable to support activities in the School of Business and UOW as a whole. One particularly notable project focused on The Green European University, which strives to become the premier institution in Sustainable Agriculture, Green Biotechnology, and Environmental and Life Sciences across Europe. During a networking event, Tina and Erin had the privilege of presenting UOW and establishing connections with numerous universities from around the world.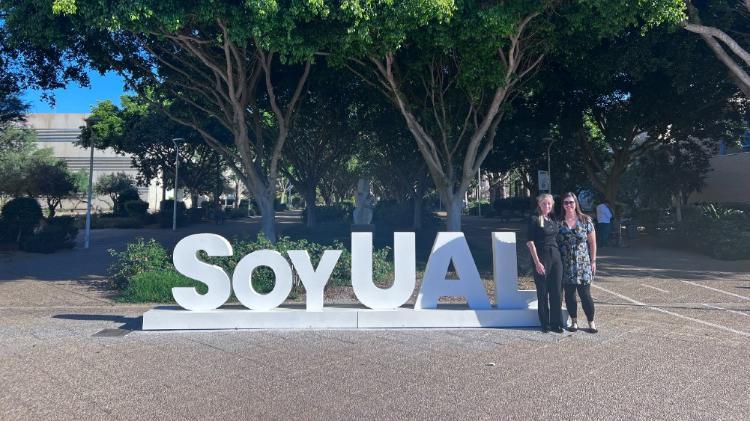 Tina Prodromou and Erin Snape standing near white large 3D letters SoyUAL in France

Dr. Pariz Lythgo-Gordon embarked on a journey to Almeriá during the Easter holidays, accompanied by her husband and their two-year-old. Prior to this trip, they had enjoyed a road trip along the coastal regions of Spain. As a lecturer in the School of Law, Pariz had the opportunity to spend her time in Almeriá hosting bilingual seminars that delved into a cross-comparative analysis of the responses to domestic and family violence in Australia and Spain. Prof. María José Cazorla and Prof. Fatima Perez warmly welcomed Pariz into their academic family, facilitating her placement. Throughout her stay, Pariz formed meaningful connections with both the faculty members and the students. She eagerly looks forward to the day when she can return to Almeriá.
Tina Prodromou was hosted by Dr. Federico Galan-Valdivieso and Dr. Ma del Pilar Casado Belmonte, who provided her with invaluable opportunities to teach two finance-related subjects within their Bachelor's program. One of the most cherished moments of her experience was sharing a personal message from UOW students to UAL students, creating a profound connection. This experience was undeniably remarkable.
Additionally, all three staff members thoroughly enjoyed spending time in Almeria, with stunning coastlines, picturesque landscapes, and a rich history—not to mention the delicious tapas they were able to sample!
We are eagerly enthusiastic about the potential for future collaborations with UAL academics and participants of the program.