Nicholas Underhill's career is one that many would dream of having – he's worked with some of the world's top musicians at Spotify and is now in a senior marketing role at Google in New York City. But Nicholas didn't get there overnight – it took commitment, time, and risk.
---
Nicholas started thinking about his career in high school when one of his teachers inspired him to consider writing.
"She channelled a love of reading into writing, showing me the power and beauty of words and language."
Nicholas grew up in Wollongong and when he saw that his local university was offering a unique degree that allowed him to explore that interest in language and communication, it felt like the right next step.
"I enrolled in the International Communications Studies degree at the University of Wollongong not only because the course sounded interesting – but it gave me an opportunity to travel in a way that other university degrees didn't," explained Nicholas.
Nicholas did two exchange programs and an internship in India during his four-year degree.
"I didn't want to just go to Paris and end up only speaking English, so I went to the small town of Pau in the south of France. For my next exchange, I wanted to experience an entirely different way of learning and language, so I went to Wuhan in China."
When Nicholas graduated from UOW, he took his time deciding what he wanted to do next.
"After graduating, there's often a pressure to find your career quickly – and I felt that too – but I wanted to take my time, to explore options, to find something that really interested me. I spent the next year continuing to work in hospitality while also exploring what my next step could be."
It was during this time that Nicholas co-founded Future Perfect, a print magazine exploring society and culture.
"Starting Future Perfect was only possible because I had that time and space – I had breathing room to brainstorm with friends – and then build a website, research printers, find distributors, and reach out to people like David Walsh, the eccentric owner of Moma in Tasmania, to be interviewed.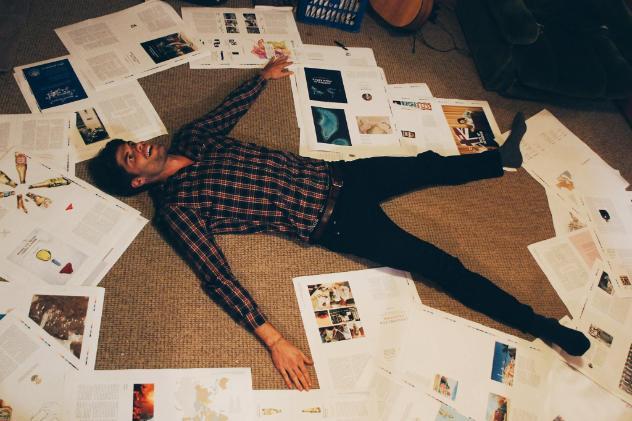 "If you have the luxury and privilege of time – and you're actively looking – you'd be surprised at how things can fall into place."
Nicholas said that the first issue of Future Perfect wasn't what he or the founders wanted it to be, but that they could have only made the second and third issue by learning everything they did through the first.
"To me, it's about trying things and being okay with them being bad. High standards are important, but what's more important is just giving it a go."
Future Perfect was internationally distributed, featured across national and international media outlets, and won Stack Magazine's 2015 Cover of the Month. It is thanks to this success that Nicholas was able to put his best foot forward for his next career move.
"Future Perfect gave me enough experience and confidence to consider other opportunities – this led me to Spotify."
Nicholas said he has always had a passion for music and first heard about Spotify during his exchange program in France.
"When I was in France everyone was using Spotify, but it hadn't launched in Australia yet. I remember being amazed that you could listen to any artist instantly. When I got back to Australia, I kept an eye on the company and when I saw they had a position open in Sydney, I went for it."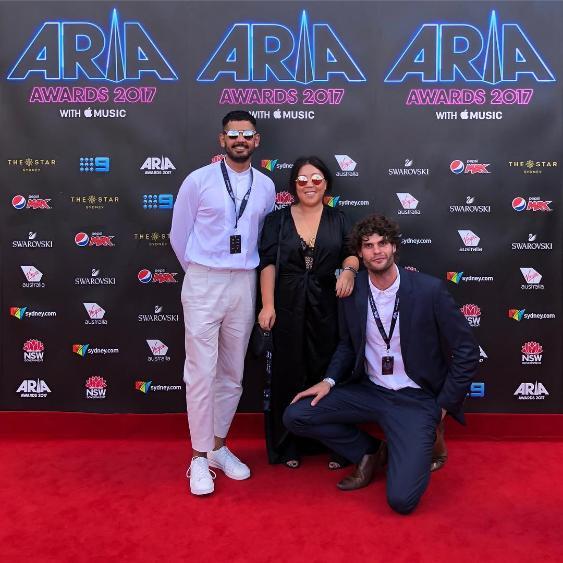 Image: Nicholas (right) at the Aria awards with Spotify colleagues
Nicholas worked at Spotify for more than four years, starting out as an intern, then a Marketing Associate and finally a Marketing and Content Manager. Leaving Spotify to pursue his New York City dream wasn't an easy decision.
"For people that didn't know me well, it seemed like an odd decision to make. I had most people's dream job, I was working with incredible artists, going to gigs every night for free, and working with some of my best friends – it was an exciting place to be.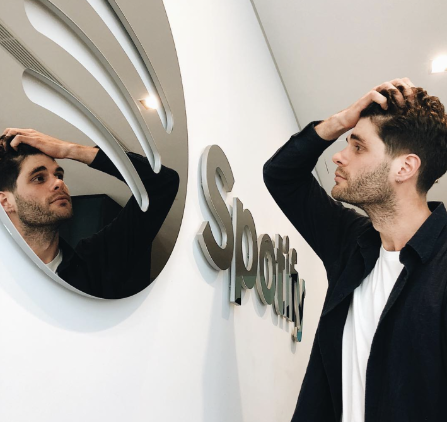 Image: Nicholas at the Spotify office
"But at the same time, I always had this pull to New York. I knew that if I didn't make a move and do something drastic, I would look back and always wonder.
"There are periods of your life where you're forced to make decisions even if it's because of some arbitrary point in time. For me, it was approaching the end of my 20s. With no family or mortgage, I could take risks. I thought if there is ever a time to move to a new country without any connections or job prospects, it's now.
"It feels inevitable looking back now, but I was talking about moving for 18 months before I finally made the call. I could keep putting it off or just take the plunge."
The day after his last day working at Spotify, Nicholas flew to the United States. Once he arrived in New York, Nicholas said he considered it his full-time job looking for work.
"I contacted everyone I had ever known who lived in New York. I met up with friends, with friends of friends, I'd invite myself places.
"I spent a lot of time getting my job applications together but what became clear is the application is such a small part of getting a job, it's about meeting the person doing the hiring and understanding what they're looking for – and you get those opportunities by talking to people."
Just like when he graduated university, Nicholas took his time looking for a job that felt right.
"I was trying not to be impatient, but I did feel a sense of urgency. I'd look at my bank account every day and then have to resist the urge to accept the next offer. I wanted to get a sense of what my options were before taking a leap into a new thing."
Nearly five months after Nicholas landed in New York, he was offered a Product Marketing Manager role at Google.
"The role I'm in now isn't one I ever thought I'd be doing. I work with the smallest businesses – like your neighbourhood coffee shop – but what's great about working at a company like Google is that you can shape your role based on what you're interested in and where you see opportunities."
Nicholas brought his love of music and experience working at Spotify to his job at Google.
"We've created a program where musicians and creators help support small businesses and drive the use of Google products at the same time."
This mixing of worlds – small business and music – is proving to be a huge success. Nicholas' work has won several awards, with a standout campaign "Black-owned Friday", winning or shortlisted for more than 15 international awards, including Cannes Lions, The Andy's, and The One Show.
"We worked with T-Pain and Normani and had them write a track about supporting Black-owned businesses. Then we went to LA and filmed a music video.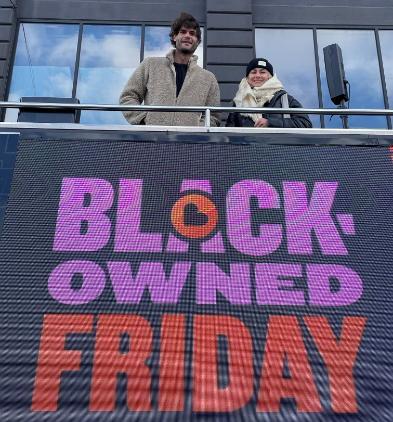 Image: Nicholas (left) on the Black-owned Friday campaign bus
"The video featured more than 100 products from 50 Black-owned businesses – even better: the whole thing was shoppable. The message of Black-owned Friday is not to buy from your big box stores and huge retailers, but to discover a Black-owned business on Google Search and Maps and support them instead."
Nicholas said that where he is today has come from taking risks and being okay with feeling uncomfortable or things not working out.
"When I was on set for the Black-owned Friday video, the scale of the production was intimidating. I was worried about how we were going to bring it all together. When I was in France, for months I barely understood what people were saying. In China, I was often completely out of my comfort zone. In New York, I've felt completely overwhelmed with even simple things, like signing a lease. Ultimately though, the times that I've felt most uncomfortable have been the times I've been the most satisfied in my personal life and career."
---
Nicholas Underhill
International Communications and Media Studies (Honours), Journalism